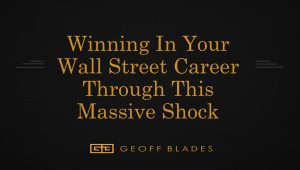 You may not be in a career on Wall Street, and get value from this new video program.
But you might still get value from where I'm taking this letter.
Where?
Well, the operative word in the subject line is NOW!
Meaning, in this Covid world, how do you keep driving forward in your business and career NOW?
2020 hardly what we dreamed…
That's an understatement, right?
Of course none of us dreamed of the world coming to a halt!
But here we are…
So, what do you do?
You've certainly already adapted to this massive shock to the system.
And found some normalcy in the current environment, working from home, etc.
But what do you do from here?
How do you keep driving forward now?
What do you NEED to do?
This is the hardest place many people find themselves.
Covid has created massive problems in their business and career, and they need to do something.
Find another job. Adapt. They must solve a problem.
Luckily for many people on Wall Street this isn't the case.
Unlike two previous massive shocks to the system I experienced and talk about here—when I began this work after the Internet bubble burst, and the 2008 credit crisis—Wall Street has held up nicely.
The markets have stayed strong.
Some Wall Street businesses have gotten stronger.
So unlike previous cycles where Wall Street careers got shredded, this time around there's less you NEED to do.
That's a good thing.
But it's also bad because it can lead people to think it's all good, and then focus too little on…