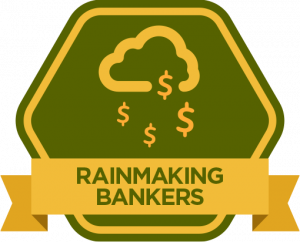 I didn't get it.
For years at Goldman I still didn't get the job.
I was good at doing it.
But I still didn't get what the business was really about.
Making Money…
In some ways I'm naive.
And I may have been a total dimwit starting at Goldman.
But my sense from 20+ years around the business is that many bankers still fail to get their job is selling.
A great aspect of working at Goldman and some shops is it's a team culture.
At least up until the senior ranks, it's all about what we're doing together in best serving our clients.
That's a powerful mindset for delivering your best service…
But it leaves many bankers confused what the business is actually about.
Job Well Done
The early years you get staffed on projects.
As far as you're concerned, somehow, some business opportunity comes in, and you've got work to do.
In some ways bankers come to resent new business, because that means work.
In other ways they come to see that work is the business.
Get the numbers right.
Put together a book.
Show up at a meeting.
Sound smart.
Get a deal done.
Pat on the head.
Job well done.
Even many MDs you meet seem to think that's what the business is about.
All that work getting the job done.
When, at some point you learn all that work is only about getting one job done.
A Business Of Selling Deals
Banking isn't a deal business.
It's a business of selling deals.
They might sound similar but they are very different ideas and mindsets.
The former can lead bankers to think their job is working hard and getting it done…
Which leads them to ultimately question why their careers stall out…
Why they're not valued for all that working hard.
But the latter…
Seeing this a business of selling deals.
Is what keeps the lights on and drives top careers.
What's Valued?
When I first stepped back from my career as an associate in 2000 and started to think differently…
I saw the business in lots of new ways.
Seeing many hard working deal folks get laid off…
I could see that you're a commodity, a replaceable asset, relative to those who own the relationship and revenue stream.
Now, that's not a distinction between coverage or execution.
The best execution bankers are those best at selling the next fee.
It's to see that ultimately, bankers aren't valued for burning the midnight oil.
They are valued how banks are valued…
Revenue streams.
Investor Or Asset Manager?
Back then seeing all that busy work bankers do…
And the deep expertise many have isn't valued…
I started thinking about a buddy who is a photographer.
I could see he needed to be great at the craft of photography. That was his job.
But his business wasn't photography—it was selling jobs.
Many investors fail to get this too.
Their job, their craft, is investing.
But the business of investing is gathering assets.
Many investors dismiss this idea.
They hate being a promoter.
But being the best investor in the world means nothing if you have zero assets to invest.
They think their results should stand for themselves but…
What Does Apple Do?
Every business is selling.
No revenues. No business.
I used to read stuff like that and nod my head.
It sounded smart, and I really bought into it, but I still didn't really get it.
Now I do.
I see it with clients building businesses and in my own.
It doesn't matter how good you are at what you do, if you can't convince others to buy.
Apple builds the most desirable products on the planet, but their deeper expertise is how they position and sell.
Every business is the same, including banking.
Getting It Done Is Not Getting It Raining
It's not the big books.
The industry thought pieces.
Smart sounding bullet points on a page.
Getting the numbers right.
Being a pro at what you do that counts.
It's how good you are at convincing clients to buy that makes it rain.
Here's 2mins from the Rainmaking Bankers Masterclass on The Massive Hidden Problem For Bankers:
P.S. You can listen to previously published tracks from this Masterclass here.