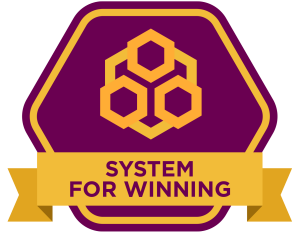 Goldman Sachs CEO David Solomon knows about winning.
He's well proven it in his own career, in the businesses he's run, and now in the way he runs the firm.
He, deeply, gets what it takes to win, and shared some advice with summer interns.
Of course he's being subtle, so let's translate it…
1.  Be yourself
We believe who you are makes you better at what you do. Share your interests and viewpoints with your teams – we value our people's unique experiences and perspectives
Translation: Don't be yourself, be your self the firm needs you to be. Be the version of you that leads people to like you—e.g. never say "I'm only here to make money"—gets people wanting to work with you and conveys you are the right "fit" for the team. Agree profusely with other people's viewpoints and only supply your own when they're acceptable to others and CLEARLY add MASSIVE value.
Example: "That's a great idea. I really like the way you're thinking about it. When I was in football camp I heard the coach say something as brilliant as that. I'll crush this, then let's figure out what more value I can add to the team."
2. Get involved
Raise your hand to participate in projects and activities that are important to you, and offer your assistance to others

Translation: Take on as much work as you possibly can, without sacrificing quality (or breaking down). Show the team you are eager, eager, eager to do everything you can to "step up." In smart ways, bug the staffer to do even more. Look for every opportunity to take on work of other analysts and associates. Once you get your work done exceptionally get involved in other activities people perceive as valuable.
Example: It's 2am, you've been cranking, you got your work done. The analyst/associate sitting next to you is still cranking away. In a cool and genuine way—i.e. not a sycophant—you ask them, "Is there something I can do for you? I'm really looking to get as much experience as I can, and I'll sleep when the summer is done."
3. Live and breathe teamwork
We never lose sight of its importance in delivering the whole firm to our clients
Translation: See above. Again, never come across as a sycophant or faking it just to impress others but as someone who genuinely wants to do everything you can to get the best experience and support the team. Jump on every grenade and convey you're a total killer for the firm. Crush it for your team and if anyone else around the firm asks you to do something, say yes sir/mam, and get it done all the same.
Example: "One thing I love about the firm is that you're truly about teamwork. It reminds me of a documentary I saw on Navy SEAL training where they never leave a team member behind. I want to do everything I can for the team, so let me know if there's anything more I can do." Boom!
4. Listen more
Whether you support external or internal clients, it's important to understand their needs in order to deliver the best solutions
Translation: Again, exceptionally do what you are told. Get as clear as you can on what is asked and get it right. Listen far more than you speak. Even if you think you've got value to add, bankers most want to hear you get what they need and "I'll crush this for you."
Example: "I really like the way you're thinking about this. So I understand exactly what you're looking for, can I ask you this…  OK, great, I'll get it done and then come back to you and see how I can make it better for you."
5. Focus on the details, but don't forget the bigger picture
Know your team's goals, and seek to recognize how your work fits into the broader strategy of the firm
Translation: Get it right. Double. Triple. Quadruple check your work. The broader picture right now is sloppy work means you fail to get the offer. Demonstrate you get why the work matters like you're saving lives, and get it right, right, right.
Example: The worst way to interpret David's advice is asking, "So, how does this fit with what matters to the client?" It sounds like you're avoiding the work, even if it should be avoided. Or if you're constantly trying to talk about why it matters, it shows you don't "get it," when your team mostly values you getting it done right, fast.
6. Build relationships
While you'll have a lot of projects to drive forward during your internship, take the time to connect with others – both within your intern class, as well as your team, division and others across the firm
Translation: First, and foremost, do your job exceptionally for the people who are reviewing you and determine whether you will get the offer. Second, build relationships with other decisions makers. Third, be a team player, build great relationships with other interns and everyone around you, assistants, WP, all. Fourth, if you have extra time, don't be shy in reaching out to other people for coffee, etc. (again, start with those who have a role in deciding your fate)
Example: Get as many people as you can saying you're awesome, you "get it" and they want you on the team.
7. Be open to new ideas, perspectives and possibilities
Those who are successful here are constantly learning and open to looking at things differently and incorporating feedback
Translation: Do what you're told. Listen clearly to what is asked of you. Assume your boss is always right, or make them feel right. Correct anything you got wrong. Ask how you can do it better, and then do it. Seek every possible way to "step up" and "add value" for the team, firm, client, anyone and everyone.
Example: Never say, "But I thought you meant to do it this way."  Or, "It's good enough or mostly right." Say, "My bad, I misunderstood. Got it, I'll get it done and then come back to you and see how I can make it better."
That's The Basics…
Do all that and you'll be meeting the same bar as everyone else.
If you really want to crush your internship…
Build your system for winning on Wall Street.
And here's track 3 from the Masterclass on The System For Winning:
P.S. You can listen to previously published tracks from this Masterclass here.