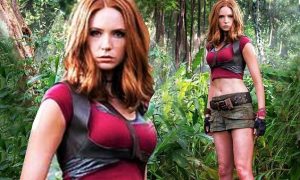 That's what she called herself—
Lame Jane.
I wouldn't have said it, but I love that she did.
Because it was incredibly helpful to no longer be that way.
"Do you want to be lame?"
I asked her.
"Of course I don't want to be lame, but it's just how I've been," she said.
And now, this is the turn.
I asked her one of the most powerful questions in unlocking all of your potential—
How do you want to be?
"Jane, Queen of The Jungle"
"Touche," I bellowed.
Why not?
If she feels that she's been showing up Lame, why not show up as Queen of The Jungle?
See, a friend had her call me because she's "Sucking as a leader," as she put it!
Now just from the language of hers that I'm sharing, you get a sense for the strength of this woman, right?
She's been looking at the performance of her business through this cycle.
And in particularly her performance as a leader, and calling herself out.
That takes a lot of character, which showed me exactly what to do.
She wanted to know what can she do?
But as you can see we ended up talking about who she wants to be.