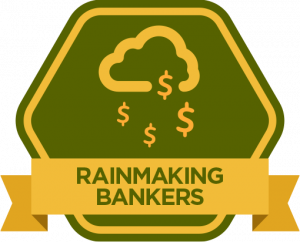 Top bankers are born, not made…
He didn't use those words, but that's what one of Goldman's top execs implied.
We talked about if Tiger was born to play.
Or did honing his craft from 6 months old make him a champion of the game?
That said, he was right, Goldman doesn't need this.
It's Too Easy To Win…
When you're the market leader.
The business card pulls the sale.
You attract top talent.
Long, deep relationships.
Enormous resources.
Market dominance.
Some celebrity execs.
Talking up recent deals.
It's a winning formula, but no top franchise endures that way.
WWTBD?
Tom Brady at the start of last season socialized a message that inspired the team.
We're the underdogs. They're counting us out.
With that fire in their bellies the Patriots did what they do best…
Hitting hard their maniacal methods for training the best game.
In some games reputation might carry you.
But to remain ahead in highly competitive stadiums you must be improving your game.
"Groom Everyone To Win Like You"
My old boss is a legend at Goldman and I wanted to first build for him Rainmaking Bankers.
He's an absolute master of the rain yet…
I know Goldman has a massive problem down the chain.
Their top bankers absolutely crush it.
But near the top and middle, even most Goldman bankers play a middling game.
I could see the game-changing opportunity to model their best and teach the rest to play a top game.
I Hope Goldman Comes Around
Literally, I owe the firm my life.
And I'd love to build thousands of rainmaking bankers for them.
Or even just condition their absolute best to be even better.
We've built parts of this program for boutiques.
But I want to build it massive, a highly systematic "machine" for building rainmaking bankers.
We're talking to some major banks but I hope Goldman comes around…
So I'm not forced to help another bank build a crushing game.
It's pretty easy…
When You Know The Plays
Rainmaking Bankers isn't just some random ideas on "selling."
And it's far beyond that lame thing banks call "training."
Custom built for bankers, by bankers.
It's a highly systematic method any banker can quickly learn and use right away.
Too it's highly scalable, so any serious firm can quickly build a deep bench of rainmakers.
I get it's not for everyone.
And we can only work exclusively with one major firm anyways.
One who is serious about making it rain, rain, rain!!!
Here's 6mins from Track 2 on the System from the Rainmaking Bankers Masterclass:
P.S. You can listen to previously published tracks from this Masterclass here.