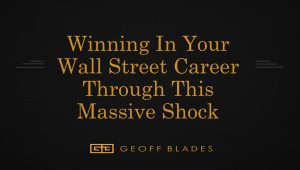 You may not be in a career on Wall Street, and get value from this new video program.
But you might still get value from where I'm taking this letter.
Where?
Well, the operative word in the subject line is NOW!
Meaning, in this Covid world, how do you keep driving forward in your business and career NOW?
2020 hardly what we dreamed…
That's an understatement, right?
Of course none of us dreamed of the world coming to a halt!
But here we are…
So, what do you do?
You've certainly already adapted to this massive shock to the system.
And found some normalcy in the current environment, working from home, etc.
But what do you do from here?
How do you keep driving forward now?
What do you NEED to do?
This is the hardest place many people find themselves.
Covid has created massive problems in their business and career, and they need to do something.
Find another job. Adapt. They must solve a problem.
Luckily for many people on Wall Street this isn't the case.
Unlike two previous massive shocks to the system I experienced and talk about here—when I began this work after the Internet bubble burst, and the 2008 credit crisis—Wall Street has held up nicely.
The markets have stayed strong.
Some Wall Street businesses have gotten stronger.
So unlike previous cycles where Wall Street careers got shredded, this time around there's less you NEED to do.
That's a good thing.
But it's also bad because it can lead people to think it's all good, and then focus too little on…
What do you WANT to do?
To be sure, Wall Street hasn't been smacked down by Covid, yet who knows where this is headed?
Certainly comp is getting slashed.
Career tracks are getting slowed.
Fewer options exist.
And that's all on the status quo track, that might change any day.
See, one of the greatest dilemmas for Wall Street right now is the disconnect between the markets and the underlying economy.
The desperate hope being that the economy will get back on the rails and it will be the roaring 20s and 10s (meaning the past decade) again.
Perhaps it will.
Or perhaps the worst is yet to come.
None of us can know where this is headed.
But you certainly know this is a dangerous time where…
You want to be doing everything you can
In past cycles the greatest lesson I learned is that people who got out ahead of it and responded fast, were best positioned.
Many laid off got back to work fast, while others were out of work for years.
Also others who saw the changing dynamics and adapted their strategies and tactics made massive leaps in their career.
The most dangerous attitude right now is wait and see.
Being complacent, hoping for the best might prove to be all good.
Or it might be the absolute worst way to be using these somewhat calmer times.
You're either at war or planning for war an old saying goes, and right now I strongly encourage people to be planning.
I might be wrong.
It might be a good time to take a breather, kick back for the summer, and then get back on the train when the world is all good again in the fall.
I hope so. Optimism and positive belief are crucial right now.
Yet that's not a strategy any more than waiting for the Nazi's to come knocking at your door.
And for myself and clients, my attitude is that you want to be very aware of the risks, and doing everything you can.
What is everything you can be doing?
That's what I hit in this video program.
This is in fact the entire point of this 4-5 hour video program.
To take everything I researched over some 15 years in writing my first book for Doing What You Want on Wall Street.
And making it highly actionable as it relates to now.
This book is my best method for driving your Wall Street career wherever you want.
And in this program I'm directing it like a laser beam to right now.
Meaning, right now, what must you be doing to keep driving forward?
How must you adapt? What strategies matter? What tactics?
How do you stay focused on what matters most and keep taking your highest value actions right now?
So that's where we begin, getting clear on how you best keep driving forward Now.
Then we turn our attention to Next
One of the biggest challenges about what you do Now and Next is…
Well, where is this headed?
Will it get worse? Recover slowly? Recover fast?
You can't know.
But you can develop your best method for driving forward no matter where it's headed.
So that's Video 3, where we go deeper into building your roadmap and method for Next.
In Video 4, we go deeper and longer.
Meaning, we extend the track to laying out a method for driving forward long-term.
So you're not just doing anything you can to keep moving forward Now.
But what you're doing Now is building into your method for how you best navigate what might come Next.
All the way through to the long-term, driving towards what you truly want.
This program is highly actionable now
It's not built for any career.
Nor for any time.
It's built for right now driving your Wall Street career.
And inside we don't just talk theory, but on the screen we also work through some exercises in the Workbook, building your method together.
I'd also say, this is the first 4-5 hour video program I've created this way.
Unlike some of my monster 17 hour programs, it's designed to hit the most important topics now, and is priced to be highly affordable and accessible.
And I want to keep coming back and hitting these types of programs.
Because what I perceive matters most right now isn't just having some great ideas.
But getting down to brass tacks so that, in these dangerous times, you have a clear map of what you might need and want to be doing to keep driving forward.
2020 hasn't turned out as we had dreamed, but when the world has turned to lemons, well…
Come to your own aid and get even more focused on how you keep driving forward.