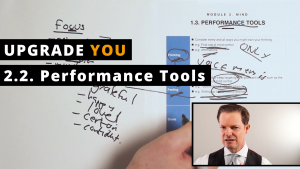 "Success is never about the idea," a VC said to me.
"It's not even about the CEO or the team," she said.
It's about how the team shows up for getting it done!
How are you showing up?
A client reminded me yesterday that this is our ultimate Performance Tool.
Especially in his context where he's gotta show up his absolute best.
In this video we've been talking about performance tools as devices for getting yourself thinking and feeling how you want.
And this is the extreme case.
Not just changing your thoughts, feelings, actions.
But getting yourself showing up as the person you choose.
When you step into a meeting, who are you being?
Jumping on a call, which "version" of you picks up the phone?
What I'm saying here is the ultimate performance tool isn't only about how you're thinking and feeling.
But who you are being.