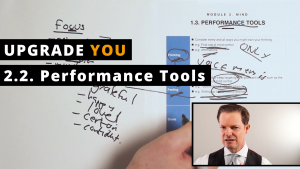 "Success is never about the idea," a VC recently said to me.
"It's not even about the CEO or team."
Taking a dramatic pause, she finished by saying, "It's about how they're showing up every day."
Who are you showing up?
This is the longer, boringer article I wrote about the other day!
I was being flippant and self-deprecating but I realized it's far too important for that.
This may be THE topic of upgrading.
It matters so much because it doesn't just relate to how you're thinking and feeling, but who you are being.
So before we move onto Mind 2.3, let's hit this video for lining up your performance tools one final time.
Ultimate Performance Tool
A client reminded me this week that this is our ultimate Performance Tool.
Especially in his context where he's gotta show up his absolute best.
In this video we've been talking about performance tools as devices for getting yourself thinking and feeling how you want.
And this is the extreme case.
Not just changing your thoughts, feelings, actions.
But getting yourself showing up as the person you choose.
When you step into a meeting, who are you being?
Jumping on a call, which "version" of you picks up the phone?
Prepare like a pro
We all know that pro athletes have pre-game routines.
In their highly competitive world, it's never good enough to just show up.
So pro athletes have extreme methods for getting game ready.
At the least athletes must be in a mindset of winning.
Yet many go much further taking on a different "character," as Kobe did, that of the lethal Black Mamba.
There may be many tools in their toolkit—e.g. music, affirmations, meditation, stretching, bouncing up and down, etc.—yet this form of visualization is often part of it.
Because it goes deeper than just mindset to the holy grail of change.
Identity-level change
You might recall I've written about the holy grail of personal change as identity-level change.
Here rather than making a change, such as getting yourself exercising consistently, you're focused on changing your identity to someone who already does.
Meaning, as I discussed in the goal conditioning video, your thoughts, feelings, actions are automatic.
This can be deep and tricky change to make.
To be totally honest, it's even tricky change for me to make on GB.
Yet you can also make this identity-level change through practicing it.
Who are you being, now?
Meaning, which version of you is showing up?
You might say, but I'm just me.
True, you are just you.
But which you? 🙂
An excited, optimistic, fired-up, hells yeah you that best drives your goals?
A distracted, pessimistic, doubting, fearful version of you that perhaps shows up sometimes?
Or any and all other "you?"
Who do you choose?
Maybe you're just chilling, and you want to be more at ease, relaxing.
Perhaps you're incredibly focused on what you're doing, and you're realizing you've already read too much of this and want to get back to focus!
Whoever you're being right now, who do you choose to be?
If you could add a bit more pop.
Or confidence.
Or focus.
Or belief in what is possible, which version would you now be?
How would you be different?
In what ways would you perform differently in what you're doing?
Using a performance tool watching a mental movie of you doing this, you're practicing being this "you."
And you might also use a role model for this type of visualization as we covered here in being the Hulk. 
See this is the Performance Tools
Here's we're talking about a performance tool for getting yourself into your best "character."
But more generally I'm hoping these articles and this video on Performance Tools is giving you some ideas. 
As we laid up in Mind 2.1. you're clear on what you want to change.
I'm hoping you've identified some tools to use.
Coz next we're moving on to your process for doing this.