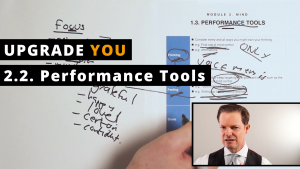 I wrote a longer, boringer article on performance tools.
Then I went for a run which made it much simpler.
You know these things that get you into a better state of mind.
Do more of them!
That's all I'm talking about in this video on performance tools.
Get clear on what you're changing in your mind as we did in 2.1.
And keep honing the tools that get the job done.
Running is one physical tool I use to simplify my thinking.
And here it led me to reflect on something too.
It's the week of Thanksgiving.
In a weirdo year.
And we all still have so much to be thankful for.
One thing I did again was the thank-filled exercise from this lighter side video.
And here's the video again on performance tools.
Next we move on to Mind 2.3.