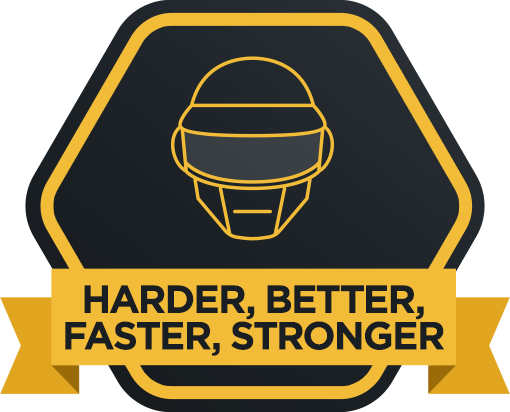 The Rocky Song, Gonna Fly Now, has only a few lyrics—
Getting strong now
It's so hard now
Trying hard now
Getting strong now
Do you see what's implied in this?
It's The Same In Daft Punk's
Harder, Better, Faster, Stronger—
Work it harder
Make it better
Do it faster
Makes us stronger
See it here again?
What's implied is that getting strong is a result of what we do.
We work it harder, make it better, do it faster…
This makes us stronger.
Rocky Trying Hard
For Rocky, doing something hard.
Trying so hard.
He was getting strong.
And we all know that's not just about him getting a strong body running on the beach or up the stairs.
Or getting stronger in the ring.
We get his struggle is mental.
To get back in the fight. To do what's hard. Try so hard.
To get mentally and physically stronger to win.
You see the same in Kayne's track sampling Daft Punk, Stronger—
Th-that That Don't Kill Me…
Only makes me stronger.
The message clearly being…
These things that push us.
Challenge us.
Take us to our limits.
Only make us stronger.
What are those things you're doing making you stronger?
Here's 27 mins from the Harder, Better, Faster, Stronger Masterclass on picking up anvils that make you stronger: