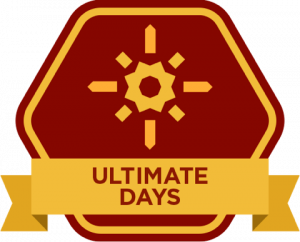 Really, why do we take our lives so seriously?
Of course we've got bills to pay.
And kids to raise.
And all those responsibilities at work and in our lives.
But why for so many of us does it all seem so hard?
Why Can't It Be More Like Play?
You know that quote about all the world's a stage…
I interpret it to mean it's a play.
Like a lucid dream we're directing this life on our own stage.
Here to play.
Believe me, for many years, well, basically, all but this one…
I couldn't live this way.
I was king of…
Why So Serious?
Arrgh, just gotta do what I want.
Like a kid jumping up and down trying to get his own way.
Even when I was doing what I wanted it didn't feel that way.
Arrgh, when I get this mission done…
That was the hardest time in my life.
But as I wrote here, it was also the greatest time that cracked open so many of these learnings for me.
I Can't Explain It
The things I'm trying to share here I'd heard thousands of times.
Osho has a laughing meditation, where all you do is play.
Perhaps hundreds of books I read were littered with ideas on playing more, laughing.
Some of my most cherished trainers are all about this.
Like crazy Richard, all about driving hard and having more fun.
For maybe 5-10 years I've had signs all around me like this pasted on my desk—
"Smiley playing is ALL"
And tools like these baked into my Ultimate Days System—
BSG: Bouncy, Smiley, Giggly.
Or, BSF: Big Smiley Face.
Only a lunatic would make this stuff up…
Let alone still not be able to live the play.
I Remembered The Bird Bath
In the front yard at my house.
It was bigger than me.
Just a little squirt stumbling around, trying to hold onto it to stand myself up.
Falling over.
Eating some dirt.
Staring at a blade of grass.
Didn't matter my parents had no money.
Or what would come of my life.
Or arrgh, how would I get what I wanted…
I was just in the front yard playing.
Still Doing The Hardest Stuff
See, and now, I'm not saying, so just give up all the worldly stuff and play around.
I'm saying the opposite.
We never learn to do either.
Even our play is so serious in our world, often requiring booze, trying so serious to not be so serious.
And here I'm saying, well, why can't you be doing the hardest stuff of your life?
The world might be spinning out of control.
But like that kid just turning circles with its friends, why not just be laughing and playing?
How can you be?
I Don't Know How To Convey This
If you had yelled this teaching at me for 20 years, which is basically what all my training did…
I still didn't get it because…
That brain of ours isn't built to get it…
It's hardwired into this world of oh so serious.
Even over this last decade of 2-8 hours a day of mental conditioning…
I still didn't get it.
But in the last couple of months.
Literally…
It clicked.
I get it.
The Choice
See, and this might sound overly simple, but…
Our lives are.
Meaning, they just are.
I am. You too. We are.
The world is.
Your day is.
And you get to choose.
Do you take it all so seriously?
Or do you see it as play?
Even if you're doing super serious stuff like saving lives…
Well, do you get all serious, and arrgggghh?
Do you best save lives that way?
Or do you see that you can be super serious feeling like you're in a play?
Not So Simple?
At least in my head it's now so simple.
And reading back through this it seems to me I'm laying it out simply.
But I wouldn't have got my point.
And I don't know how to convey this any better for you to play.
Maybe it takes decades of bludgeoning the mind?
Maybe that's just my thick shell?
Maybe you can simply choose right now to more play?
I know I can quickly train someone to live here now.
But maybe the best I can do for you here is again share track 1 from the Masterclass for Ultimate Days?
P.S. You can listen to previously published tracks from this Masterclass here.