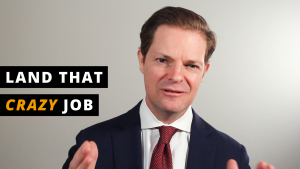 This is a crucial question for a lot of people right now.
Many people will be laid off and forced to get back to work.
Others will see their career has massively changed—compensation, promotion, culture, long-term trajectory, etc.
What does it all look like now?
Also it's a time when many people are stepping back seeing life's too short, asking what truly matters.
As my buddy put it, "If you're not gonna go for what you truly want after all this, when will you?"
But how do you land a job in this market?
The same way you do in any market.
You go crazy!
At least that's how I do it.
And how my clients do it.
You can do the same basic preparation that even many people fail to do!
But if you're serious about getting an advantage in how to land the job you truly want, don't you want to do everything you can?
And look, to be honest, I've started to accept what some people have been telling me for years.
Sure, OK, I can be a little intense 🙂
Yes, it may be true that my 17 hour program to Land That Crazy Job is extreme!
But that's because it's built to do extreme things.
And is it really extreme to do everything you can to land the job you truly want?