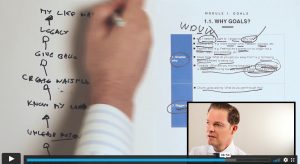 There's lots of stuff on why goals are important.
Here I'm not talking about why you want goals.
As a winner I'm assuming that's obvious to you.
Here I'm talking about the why of your goals.
Why do your goals matter?
You've likely heard of the powerful notion of starting with the why.
Yet in this short video we're focused on the other end.
Finish with your why
The why of your goals is to finish.
To achieve.
Get it done.
Get what you want!
Goals aren't there for you to look at and talk about.
They're devices you're using to get your mind and actions in gear for driving the results you want.
In this way goals are about your achieving.
And also your process.
As well as who you are being driving your goals.
In this video we whiteboard on two levels the why of your goals.
The smaller why
Why do you have goals?
Or, if you lack clarity on them, why do you want clarity?
Why do your goals matter to you, NOW?
Are you looking to get beyond where you feel stuck?
Something you want to do?
Need to do?
Are your goals about getting motivated, holding yourself accountable, giving yourself a yardstick to measure, etc.?
These types of topics I consider the smaller why.
The bigger why
Why, REALLY, why do your goals matter to you?
For instance, if you feel stuck and your goal is to find your fire again, why does this matter to you?
Or say if your goal is to make more money.
Or get a better job.
Or build your business to the sky.
Or anything else!
Why?
I mean, REALLY, why?
What is your bigger why in achieving your goal?
Here in this video we walk through a process to get to this bigger why.
And most importantly
How you're tying your smaller and bigger why back to your goals.
Coz, again, this isn't about having goals.
Or why they matter to you.
But how you're using your goals to get your mind and actions aligned for achieving them. 
This is the point of Upgrade YOU.
Upgrading the way you get what you want!