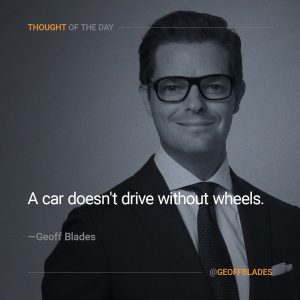 A car doesn't drive without wheels!
And the same is true for driving your goals.
Missing just one part can destroy your success.
It might be obvious to say, yet it can be easy to miss.
It's obvious with a car, isn't it?
Remove the wheels and it no longer drives anywhere!
But in your goals, how do you know if you're missing a part?
What parts must come together?
I met with a fund manager "trying" to raise capital.
He's a seasoned manager who's already sitting on $3 billion in assets.
But for the last 6 years, he's been unable to raise more.
"I'm doing everything right," he said.
"But I'm just not getting the results."
Then catching what he'd said, he joked, "I guess that means I'm NOT doing everything right."
"Touché," I said.
"So what I am missing?"
Great question, right?
See, that's the thing here.
A lot of the time it can feel better to think we have the right answers.
To tell yourself that you're doing EVERYTHING right.
But, clearly, if you're NOT getting the results you want…
Then, you want to crack open one of these doors and ask:
Maybe you're doing everything right, so is it just a matter of more time?
Perhaps there are things you aren't doing as right as you thought?
Are there parts that you're COMPLETELY missing?
It's like diagnosing a problem in a car engine.
Perhaps it takes some testing to figure out what's NOT working.
And just exploring these questions you're likely to quickly enough diagnose your problem.
How do you hunt what's missing?
That's what I respect about this fund manager.
He's a big deal, a HUGE winner in his business.
But a part of his "machine" isn't working, and he has the humility to keep seeking a new solution.
He's tried lots of things in the past.
Has been through teams of fundraisers.
Yet, still, he hasn't been able to solve the problem.
"So, how do you solve the problem?" he asked.
Humbly, I responded, "I have no idea… Let's start with what you've been doing!"
Carefully go through what you're doing now
I wouldn't have a business if this stuff was easy!
And especially when it's hard people can be reluctant to have me rummage around in their problems.
But, that's the only way you get to a solution.
In his case, to be totally honest with you…
It was super EASY for us to diagnose his problem.
As soon as he started walking through what they've been doing…
It was straight up obvious.
"Ad Hockery…"
"Do you know this word?" I asked him.
It was word of the day a few months back and I clung onto it.
The meaning is: Relying on temporary solutions, rather than on CONSISTENT, repeatable methods.
As soon as he started describing how they'd been going at this in the past that much was clear.
They had ZERO method to their madness.
It's not their fault, either.
When he started his firm, investors were throwing money at him…
So he never needed to get highly methodical in the way he builds his business.
Again, it sounds obvious, doesn't it?
That if you want to drive top results, then you want a powerful method for doing it.
But if you don't know it's missing, you don't know it's missing!
Build a "Production Line"
That's the way an asset management client talks about our work building his sales organization.
He wants more sales "Producers," so we've built for him a production line.
To state the obvious again…
The reason a car doesn't get carried off a production line is…
Because there's a station to bolt on the wheels!!
End-to-end you make a car so it drives off the line.
And of course more generally manufacturing lines exist because they are most efficient and effective.
They produce consistent, repeatable results.
And also give you a way to continuously improve.
That's CRUCIAL to getting any of your goals rolling forward too.
Consider your goals more specifically…
Do you feel like you have all the parts coming together?
Are there things missing?
What might they be?
Perhaps you're missing a big part, as the fund manager was?
Maybe just a small part?
Or even just a tiny tune up would make all the difference?
Whatever it is, to keep driving forward your goals…
You want a method that brings together all the parts.
So just like a car with wheels, you can drive anywhere you want to go!
P.S. If you're looking to keep filling in the parts on how to best drive forward your goals, you might get value from this presentation I delivered here in New York which goes through my system for driving towards what you TRULY want.