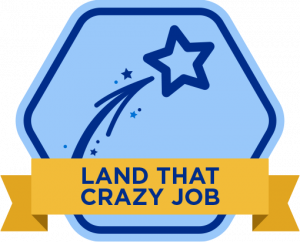 There's plenty of good-enough ideas for landing a job.
Writing your resume.
100 interview questions to prepare for.
Ace the case, and all that stuff.
Good-enough might be good-enough for good-enough jobs but not when you're focused on…
Landing That Crazy Job
The job you truly want.
That you'd be crazy excited to land.
The job others might perceive is way out of reach for you.
You may be "unqualified" for.
That others might think is crazy for you to even set your sights on.
Let alone for you to walk in and land.
Demands A Crazy Approach
Yes…
To be sure…
I know to some people what I do is craaaaazzy.
Extreme.
Yet, when you're going for what you truly want.
Your dream job you may have targeted for years or even decades.
That will transform your career and life.
Isn't it crazy to settle for less than extreme?
Crazy Unprepared
Many people walk into exams only prepared to pass or fail.
And they approach job interviews the same.
Setting their sights low targeting a job that's well within reach.
Doing a little research.
Writing up some notes.
Maybe a mock interview or two.
That's a good-enough approach for targeting good-enough.
But those with your sights set on a massive leap are crazy to walk in unprepared.
Crazy To Stay Stuck
Some two-thirds of people hate their job, and at least two-thirds of their life.
But they'll never go for the job they truly want.
Not because they dream to settle for being stuck in mediocrity.
Because they never want to be challenged.
Live with a case of the Mondays only thanking God on Fridays.
It's that nobody has ever told them, REALLY, you can go for what you truly want.
And then, more importantly, given them a method for leaping there.
Land That Crazy Job
Crazy job for crazy does.
Crazy is the USA and USSR targeting a man on the moon.
That giant leap few believed was in reach.
Just small steps when you've got a crazy method for making crazy leaps.
Landing that crazy job is the same.
Here's the intro track for the Masterclass on Land That Crazy Job: 
P.S. You can listen here to previously published tracks from this Masterclass.
P.P.S. You can read here more articles on crushing your career.