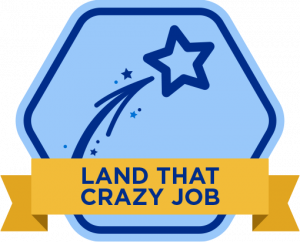 Where do you find that crazy job you truly want?
How do you hunt it down?
Best get yourself in front of opportunities?
It's the hardest problem salespeople spend their lives solving.
A Sourcing Problem
Often we think of selling as what you do when you have a prospect in front of you.
When in fact most the sale happened way before that.
In the way a top salesperson prepares for the sale.
Developing collateral.
If they're a real pro, laying out their best ideas in a selling Black Book.
But FAR MORE importantly…
In the way they target their hungry buyers.
An Old Selling Story Goes…
If you had a hot dog stand what advantages would you want to succeed?
Best bread? Meat? Location, location, location?
You can have all that.
We'd want just one advantage…
A long line of hungry buyers.
With that you have all the advantage you need.
Coz it's not about what you're selling, but being in front of those people hungry to buy.
The Same Is True Interviewing
Rather than trying to sell everyone.
Top salespeople spend the majority of their time seeking out those people who are hungry for what they offer.
This notion of Sourcing or Lead Generating we cover in depth in selling-oriented programs like Rainmaking Bankers and Raising Your Fund BFE..
Equally applies to landing your crazy job.
That's because it's not just about how good you are at interviewing.
Nor how expertly prepared you are to sell yourself.
What matters most is that you can first get in front of those crazy job opportunities.
This Is Why Headhunters Are Bottom Of The List
Because their job is to fill empty seats.
If you're making an obvious move from, say, Head of Business Development at one company to another.
Or banking MD to another shop.
Well, then they can be extremely valuable. That's a straight shot. They're good at round peg, round hole.
But if you're targeting that crazy job. A transformational leap few people even think you can land.
Like leaping from corporate VP to CEO. Or senior banker leaping to the buy-side.
Well, what matters far more than recruiters is…
How, just like a sales pro, you spin up your sourcing funnels for getting in front of your crazy job opportunities.
Here's 20 mins on it from the Masterclass on Landing That Crazy Job: 
P.S. You can listen here to previously published tracks from this Masterclass.
P.P.S. You can read here more articles on crushing your career.