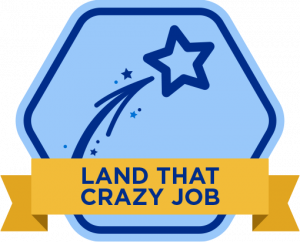 Too many people feel stuck in their career.
Not just in so-so jobs, but even many people in top jobs…
Feel like they're stuck settling for less than they deserve.
Crazy To Go For What You Truly Want?
I get that some people think what I do is craaazzzy.
But isn't it more crazy to stay stuck in our careers?
Now, let's be honest here.
I'm the wrong person to ask what is crazy.
I've always been crazy relative to settling for less than we can achieve.
Growing up working poor I didn't get why people wouldn't do everything they can to elevate their lives.
At Goldman Sachs, one of the best jobs on the planet, I didn't get why many people felt stuck complaining.
It's crazy to me they wouldn't just make a change.
Crazy Stuck In Mediocrity
To be fair.
I get that not all stuck people are crazy.
The definition of crazy is being stuck, doing nothing about it, wondering why you're still stuck, meaning only some of them are crazy.
And not all people settling for mediocrity are stuck.
Some are making a choice.
Others are doing the best they can, which by definition means they're not stuck, nor in mediocrity.
I get it's not crazy to settle for lots of reasons.
But the ones I'm most focused on I refer to in the Crazy Job Masterclass as…
BS-MS
BS-MS is a crazy acronym I made up.
BS we all know stands for BS, because we mostly get stuck in our own BS, don't we?
B stands for belief.
It means we stay stuck because we don't believe we can have more.
S means stuck.
Coz if you've spent time on a farm you know once you stand in BS, you're stuck with it, aren't you?
MS is where we stay stuck.
In Mediocrity, operating at a fraction of our potential.
Settling for a fraction of what we deserve.
B-SMS
One crazy thing about my BS-MS acronym is it's a transformer.
Just by moving the hyphen you see it changed.
Now it conveys:
The wrong beliefs (B) mean we fail to get the message (SMS).
See what we did there?
Crazy, isn't it?
Staying stuck in our old beliefs we never get the message of what's possible for us.
And, by definition, just by changing your beliefs you see…
Your Crazy Job…
Is right there within reach.
If you can dream it, you can land it.
The crazy Wright Brothers said something like that.
Just by changing your beliefs.
Honing in on that vision for your crazy job.
And taking action every day.
Even the most crazy job is just steps away.
Here's 12mins on BS-MS from the Masterclass on Land That Crazy Job: 
P.S. You can listen here to previously published tracks from this Masterclass.
P.P.S. You can read here more articles on crushing your career.