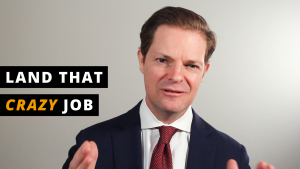 This is a crucial question for a lot of people right now.
Many people will be laid off and forced to get back to work.
Others will see their career has massively changed—compensation, promotion, culture, long-term trajectory, etc.
What does it all look like now?
Also it's a time when many people are stepping back seeing life's too short, asking what truly matters.
As my buddy put it, "If you're not gonna go for what you truly want after all this, when will you?"
But how do you land a job in this market?
The same way you do in any market.
You go crazy!
At least that's how I do it.
And how my clients do it.
You can do the same basic preparation that even many people fail to do!
But if you're serious about getting an advantage in how to land the job you truly want, don't you want to do everything you can?
And look, to be honest, I've started to accept what some people have been telling me for years.
Sure, OK, I can be a little intense 🙂
Yes, it may be true that my 17 hour program to Land That Crazy Job is extreme!
But that's because it's built to do extreme things.
And is it really extreme to do everything you can to land the job you truly want?
Crazy to do everything you can?
When it comes to what you do nearly every day for most of your life, isn't it crazy to settle for something less than the job you truly want?
Or to spend years of your life in school, and then in your career.
Literally, working around the clock to excel, and then showing up at a job interview only kindof prepared?
Especially like my clients, when you're senior in your career, and you've already put in decades of effort.
Focusing on that unique, hard to land job, isn't it crazy not to do everything you can?
That to me is crazy stupid.
When this program is built to do something crazy amazing.
Land that crazy job
That crazy job isn't just a dream job or even the job you truly want.
It's the one that might be a crazy stretch for you, that is way out of reach.
One that many people think you're crazy for even imagining you can land.
Which requires you to work at it like crazy to land.
That you'd be crazy excited to be looking back having landed.
While you might get "lucky" and just show up and land that job you truly want.
In my world, if you're chasing extreme goals, you want an extreme method.
Is it extreme to have a winning method?
This method I've been building and using for now 23 years!
When I was first graduating university and targeting jobs that would literally hire 1 or 2 people in the entire country…
I did everything I could to show up crazy prepared.
Not just all the obvious resume, cover letter, interview questions, or whatnot.
But getting as good as you can at every aspect of how to land the job you truly want.
Back then this method was very basic, but over the years I kept building it, integrating the best tech I discovered, into this crazy program you see today.
How to land a job, even in this market?
You get real focused on what truly matters.
There are three core pillars to the Crazy Job System—
Targeting, sourcing jobs like a professional salesperson (instead of randomly networking, dropping resumes, etc.)
Preparing to sell yourself like Coca-Cola sells you water! Meaning, clearly knowing what they are buying and you are selling.
Driving your interviews like a chess grandmaster all the way to checkmate.
So, yes, of course I get this method might be crazy and extreme.
Yet, when the question is how to land a job in this market…
Let alone your most crazy job.
Wouldn't you want a method that is extreme?
Also, now we've put the core of the program into this free, short video program that anyone can easily put to work right away!