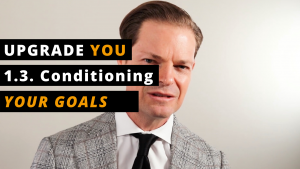 It's election day, so let's use it in our context of conditioning your goals.
Consider for a moment—
How many seconds a day do you think Trump and Biden have been conditioning their goal to be president?
Do you imagine for the last month they've been thinking about much else?
What about the last 6 months?
12 months?
Heck, each of them has been talking about being president for 40 years!
To the point where today they have millions of other people focused on their goal.
Conditioning their goal for them, and for everyone else in the country!
Think about this for a moment.
Millions of other people have given up on their own goals to focus on the goals of these two people.
In this way, your goals become not just your reality.
But the reality around you.
This happens when you're deeply living your goals.
Thinking about them all the time.
Working on them.
Dominated by your goals.
Not only are you more likely to make them come true.
Your goals have become you.
That's what we're doing here in conditioning your goals.
Not just setting clear goals for yourself, as we covered here in 1.2.
Or why your goals matter for starting and finishing, as we covered here in 1.1.
But conditioning your goals to the point they are automatic in you.
They are you.
Your goals are who you are and what you do.
To be sure, this is extreme, and not for everyone.
But for anyone looking to achieve a massive goal like becoming president, you must condition your goals to become you.
You can watch the video again here.