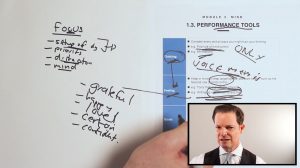 All I do is win, win, win no matter what…
You may know this opening lyric to the song, All I Do Is Win. 
That's prime mental conditioning right there!
Not saying that's all you need to build a winning mindset.
But it is one simple example of a Performance Tool.
And not one I go into in this Performance Tools video. 
Performance tools drive performance…
See, this is the reason I refer to these as Performance Tools.
Because you can call them ideas.
Or philosophies.
Or principles, practices.
Yet I refer to them as Performance Tools so you have clear intent.
You are using these tools to get your mind in gear.
For thinking and feeling your best.
And unleashing your top performance.