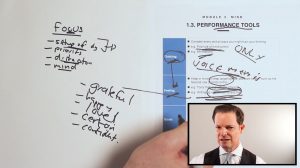 All I do is win, win, win no matter what…
You may know this opening lyric to the song, All I Do Is Win. 
That's prime mental conditioning right there!
Not saying that's all you need to build a winning mindset.
But it is one simple example of a Performance Tool.
And not one I go into in this Performance Tools video. 
Performance tools drive performance…
See, this is the reason I refer to these as Performance Tools.
Because you can call them ideas.
Or philosophies.
Or principles, practices.
Yet I refer to them as Performance Tools so you have clear intent.
You are using these tools to get your mind in gear.
For thinking and feeling your best.
And unleashing your top performance.
Gratitude on the run
Yesterday on a run I was listening to a recording on gratitude.
It reminds you of people and things that you're grateful for, and then ties this feeling back to your goals.
Again, this is a simple example of a performance tool for putting your mind in a certain place.
Listening to music while working out does the same.
It's just here we're talking about doing it with specific intent.
Which tools are you using for changing what?
In the previous step on the mind we focused on what you're changing.
There you may have written down some remedial or generative changes.
Such as say worrying less, building more confidence, belief in your goals, etc.
Here you're seeking to pair what you're changing with a tool for getting the job done.
As I wrote about earlier in the week, if you're driving a nail, you want a hammer.
What do you want here?
Looking at the things you're focused on changing in your mind, what tools might you apply?
For instance, are you visualizing your goals?
Might you use an affirmation?
Perhaps get focused on using the first rule of mind control we discussed here?
Is this coming together for you?
This is a harder step to do by video because we're talking about tools you might not have much experience with.
But hopefully I'm doing at least a good enough job in this video on performance tools.
Keep in mind there are plenty of examples in my book for Building Your Limitless Mind. 
And also what I said on serious topics of mental health here, where you want to seek out any and all potential solutions.
The point being that there are lots of Performance Tools you can use.
And here you're looking to line up the right tools with what you're changing.
Feel free to reach out with any questions.
Or send your work our way and we'll let you know our thoughts.