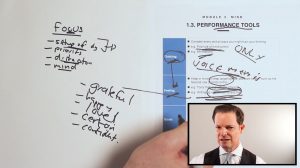 If you're driving a nail, you want a hammer.
For rotating a screw, get a screwdriver.
To build up your pec muscles, you might jump on a bench press.
Increasing your flexibility, harness a tool called stretching.
All these are simple examples of tools you can use to drive goals.
Performance Tools are the same
This all seems so obvious to me now, but years ago it wasn't.
Topics of the mind were far more complicated.
From reading thousands of books on personal development and hundreds on the mind I had tons of ideas.
Positive thinking.
Affirmations.
Visualizations.
Psychology, neuroscience, dozens of schools of thinking.
Lots and lots and lots of smart-sounding quotes about how you get yourself thinking and feeling your best.
On top of that I added tens of thousands of hours training with whom I perceive to be the best teachers on these topics learning the best tools of the mind.
Like a gym in your mind
See, all of that "intel" was extremely valuable for me.
Yet like only having a gym in your mind, I lacked a way of actually using it.
What makes working out the body so obvious and simple (not easy, of course), is it's clear what you need to do.
You want to get in cardio shape, well, obviously there's many "tools" you can use.
Run. Bike. Stepper. Row.
Dance. Box. Kick a ball in the park.
If the goal is increasing your fitness, it's pretty obvious which tools might do.
You want the same for your mind.
It's "just" conditioning
How you think and feel is merely a matter of conditioning.
If you spend most your day worrying, you'll have built up some Mr. Universe sized worry muscles.
Same with fear.
Also joy.
Eating doritos all day conditions you fat in the same way that laughing all day conditions you more "play-filled."
Top performance is the same.
The more you drill your goals into your brain and nervous system.
Every moment you're driving peak performance, the more you're conditioning this.
That's the point of the performance tools.
Using the Performance Tools
In the last step 2.1. of Upgrade YOU, you've been getting clear on what you're changing in your mind.
Here, to make these changes, we're equipping you with tools.
Although we're giving them a fancy name, the Performance Tools can be super simple.
Smiling, for instance, is a Performance Tool for immediately changing how you're feeling.
So too is bouncing up and down saying hells yeah, which is close enough to my tool, Bouncy, Smiley, Giggly, we talked about in this video on the lighter side.
More sophisticated tools like visualization you might use to condition goals and top performance.
And tools like meditation or hypnosis you might use to do deeper mind work.
What's simple in using Performance Tools is that just about any tool used over and over will powerfully condition. (e.g. what's more simple than a push-up for conditioning your body or an affirmation for conditioning your mind?)
What's less simple is knowing the right tool for driving the change.
And then, applying it well!
Get your Performance Tools
This is harder for us to do together in this video.
As I talk about, this is bespoke work, and demands real expertise on understanding and using these tools.
But in this video I'm sticking to some basic Performance Tools that you can quickly and easily put to work.
For instance, using voice memos on your phone as reminders.
Or visualizing your goals.
I'm also directing you to my book for Building Your Limitless Mind, and anywhere else you might find the right tools.
Keep in mind that you can build loads of expertise on any of these tools.
Yet, just like driving a nail with a hammer, even crudely using these tools can powerfully drive change.
The key is, doing it!