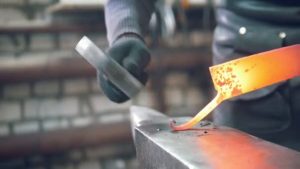 For years I sought better ways to characterize the pursuit of success.
I could see that, ultimately, success is the pursuit of development, that it's not only (or perhaps at all) about what we "achieve" but much more about who we become.
A real goal is one that is bigger than us and requires growing if we are to succeed.
If you're not strong enough to pick up a heavy load, then you either leave the heavy lifting to someone else, or you choose to get stronger.
We fail to grow if we're not stretched, and to forge ourselves into our greatest, we need a goal that forces growth.
I call this an anvil.
Forging Steel
To forge steel you heat it up with a flame, and bash it against an anvil.
Of course nobody asks the steel if this is a pleasant experience, but one would like to believe that it's worth it to be forged into what you're destined to be.
Success can feel much the same.
Our society likes to celebrate those who have achieved, but we seldom like to go too deep into what it took for that hero to become this way.
Watching Elon Musk in the world, does anyone think it looks like a laugh a minute?
Sure, plenty of people would love to be a billionaire, but how many would step into the heat and beat themselves against the anvils of SpaceX, Tesla, Boring, SolarCity, and all else that man does?
(I don't know how he does it without Geoff Blades yet on his side… struggling is how :). Let's take it to another level, Elon!)
Many of us dream of achieving great things. We dream of becoming great men and women. But we shy away from the anvil because we want an easier way.