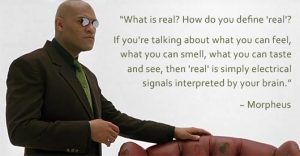 Last weekend was my fake Facebook birthday so I took a trip to celebrate.
Each year I forget my fake birthday until a couple days before I start receiving texts, and then I feel a little guilty.
For obvious reasons I gave a fake ID to Facebook, not knowing that for years to come I'd be stealing fake birthday wishes from the community.
I used to tell people "no, no, it's only my fake Facebook birthday," but I saw it robbed them of birthday joy so I learned to just say thank you.
This year I took it a step further and celebrated too 🙂
Fake, Real, Reality…
One of my Level 4 Tools is called the Present Dashboard.
Part of the tool is looking out through your eyes at your life like you're looking through the windshield of a car.
This helps you be in the driver's seat of your brain, giving you more choice on what you pay attention to, and how it makes you think and feel.
You can imagine looking out through the windshield at a traffic-filled overcast day, or you can see the sun shining brightly on a road of your dreams.
Your "real" day might seem hard, but looking through your windshield you might choose to experience it more joyfully.
A challenging workout you might see like fun play. A tough meeting you might imagine going smoothly, and choose to brighten up and feel cheery no matter how it goes.
The Present Dashboard teaches your brain the difference between reality and what we make "real."