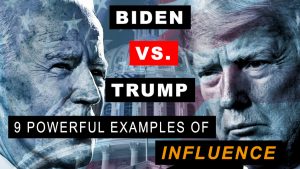 Who won the first 2020 presidential debate?
That's debatable!
If you want an unbiased opinion on that, you can look to CNN or Fox 🙂
But if you want to go deeper into 9 powerful examples of influence from the debate, look right here.
You might be interested to go deeper into how each of them influenced to win on this grand stage.
Or perhaps more importantly, to arm yourself with influence you can use to win more on your stage.
Winning with influence
All the world is a stage as I wrote about here.
And those who can influence are more likely to drive the results you want in every stage of your business and life.
You might know I see politics as a game of influence, as I wrote about plenty when I wrote this book on Trump crushing the GOP in 2016.
Winning in politics has little to do with policies, but how well you rally voters.
As I wrote here, it's clear to me this election would come down to how Biden and Trump stacked up on the stage.
Overall I'd say it was favorable for Joe.
The risk was he'd get blown up by Trump, but he well stood his ground.
And landed plenty of shots too.
That said, the only people who decide the winner of these debates, and indeed the election, are voters.