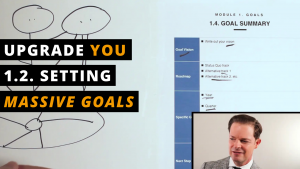 Goals can be hard to achieve, right?
But if you're like me, you know sometimes they can be just as hard to set!
As we bang on deeper in this video for Upgrade YOU, setting goals for yourself…
Let's hit 6 subtle problems you see with goals.
1. Don't know what you want
I spent 10 years on this topic…
Reading thousands of books looking for an answer, thinking you need to know what you want to get it.
That's the dirty secret I wrote about here. 
And the method we work through in this video.
How you set massive goals, even if you don't know what you want!