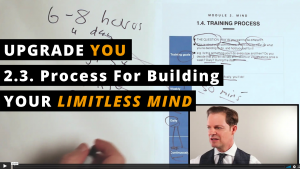 Imagine you're looking to get in great shape.
Seeking to do everything you can, you hire a top personal trainer who designs a comprehensive program for you.
Perhaps it has you working out 4-6 days week.
Maybe you're doing cardio 2-3 days.
Other days strength training.
Looking at the program you say, "That's awesome."
But knowing full well exercise is just one side to getting in great shape you ask, "Should we also focus on how I'm eating?"
"No, it doesn't matter," they say, "If you like you can eat Doritos all day."
Says no trainer!!
Not only would a trainer never say this.
But no matter how good your exercise plan, you know you'd fail this way.
It simply doesn't matter.
If you're working out an hour and eating junk 15 hours a day, your shape reflects it.
And of course you know where I'm headed here—
Your mind is the same.