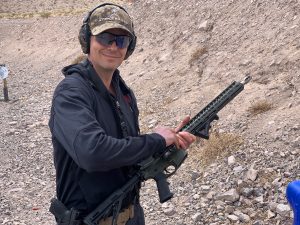 I'm wary of writing this.
There's nothing I despise more than violence and I seek to be a pacifist.
But I keep getting asked about guns and I feel it's important to share some of my perspective.
Yes, it is a more lawless time and you might feel you want to protect yourself and your family better.
Sadly, I know many people in California who I was once afraid to even tell that I shoot, who now feel unsafe and are arming themselves.
It is absolutely true that a firearm can be an excellent way to protect you and your family.
But there's a few things I always point out to people that I feel is important to share.
I'm NO expert
All I know about firearms I've learned from years of training with Navy SEALs, as I wrote about here.
Back when I first started shooting I had no idea what I was getting into.
Like perhaps many people I thought of rigidly standing on a line, looking down the sights and trying your best to accurately put a hole in a paper target.
This is of course a crucial part of training to shoot safely and accurately.
But it's the least relevant part of protecting yourself and your family with a firearm.
It's like standing rigidly at the free throw line in basketball sinking hoops.
The real craft of basketball is everything that you do on the court, and the same is true with gunfighting.