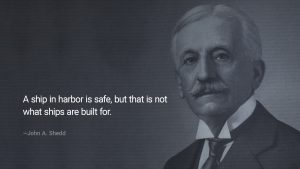 A client just needs one special quote to get fired up.
He can get it from just about anywhere.
For him a single burst of inspiration propels a LONG way.
Personally, my brain demands more fuel.
I need 73 🙂
What's in a quote?
Not much, one may say.
Or you might say that some quotes contain so much more than one can convey.
This quote you see at the top of this page, for instance, is one of my favorite, by educator John A Shedd in 1928—
"A ship in harbor is safe, but that is not what ships are built for."
Powerful idea, isn't it?
You see that it forces your brain to consider risk a certain way, doesn't it?
This is why we used it to "reframe" taking risk in this program for Rocketing To the Top like Musk and Bezos.
Juicing quotes
By "juicing" I mean to REALLY squeeze the meaning out of a fantastic quote.
Years ago I wrote about juicing this idea from Picasso—
Our goals can only be reached through a vehicle of a plan, in which we must fervently believe, and upon which we must vigorously act. There is no other route to success.
On the surface it's a powerful idea, isn't it?
And juicing it can give you so much more fuel too.
Maybe we'll do some more of this together.
But for now I'm sharing with you this beautiful book of 73 inspiring quotes from the program on Musk and Bezos.
What's in 73 quotes?
In researching Musk and Bezos we collected thousands of juicy quotes.
From these we used 73 special quotes to convey each of the 12 HIDDEN Principles in this program.
We've now compiled these 73 beautiful quote cards into this e-book that we love and you may too.
You can keep it on your desktop, iPad, phone, wherever.
Print it if you like too.
Use it all the time or even just in these moments like my client when you need that extra burst of thrust.
Here's two more of my favorites quotes from the book you can download here.