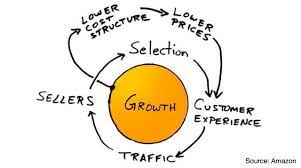 The holidays can feel like crashing through a tape at the end of a marathon.
Especially in these dysfunctional times it's easy to feel like you're ready to crash down and pass out.
If you're feeling that, yearend is the time to cool the jets and recharge.
But if you're feeling the fire, it's also your best time to accelerate.
While others are slowing down you can distance yourself and start the new year with incredible velocity.
Especially if the world economy is slowing down.
Speed up your economy.
Economy of motion
A favorite quote I cite all the time is from famed basketball coach, John Wooden—
"Never mistake activity for achievement."
This is a mistake that so many of us "busy-ness" professionals make all day every day, decade after decade.
Hours a day consuming media.
Frenetically running around doing things.
Having "great meetings."
Feeling productive.
But with way too little production.
That's a perfect method for burning out.
The flywheel
This is one of the most valuable things I got from going deep into researching Musk and Bezos last year and building this program.
By golly, if nothing else, Musk is a signal of economy of motion.
This week you may have seen this email from him on "productivity recommendations," which I might come back to.
For all the noise he makes marketing on Twitter, you have to wonder how does the guy run all those companies and get so much done?
Timeboxing, working in 5 minute increments is one way.
Recruiting the best and best driving them is another.
A dozen or so things I decoded from his game have been massively game-changing for us and clients.
Bezos too.
And the one thing I'm thinking about here today is how much you get from studying Amazon's flywheel.
Bezos' flywheel
You might recall that I wrote about Amazon's flywheel here.
One thing you can love is the simplicity.
Just 6 variables for creating trillions of dollars of value at Amazon:
Selection
Lower prices
Customer experience
Traffic
Sellers
Lower cost structure (which drives lower prices)
Now of course knowing what gets your business (and other goals) flying faster and faster is one thing.
But what matters most is actually driving it.
RPM
RPM is an acronym that we use in our businesses and with some clients.
It's a way that we think about driving the flywheel, and we have lots of ways of saying it.
With one client it's:
Relationships —> Production —> Money.
Meaning, if they focus on the right relationships, and constantly seek to produce more and more value, then you drive more money.
It ain't rocket science.
Run the right process and money flows.
It's simple, isn't it?
You can use this acronym in many ways, such as one client focused on raising investment funds:
Returns  —> Performance —> Marketing
Another refers to it as:
Revenues  —> Programming —> Recruiting
However you label it, get the RPM of your flywheel spinning faster and faster and you get your business and other goals flying faster and faster.
Your flywheel?
How might you think about your flywheel?
Because keep in mind what I'm saying here is that you can use your flywheel for anything.
In a client-focused business we advise for instance, what most drives the flywheel is meetings, as I wrote about here.
Yet the same concept applies to someone seeking a job.
Now, keep in mind you never want to mistake activity for achievement, but simply by applying for more jobs you're gonna spin the flywheel faster.
Same with capital raising—more meetings drives more capital.
And in your personal life, by the way.
A client looking to meet Mrs. Right, for instance, her flywheel starts with meeting more of the right women.
How about you?
What best drives your flywheel?
Only a mechanism
Keep in mind that the flywheel is merely a mechanism.
Just like the flywheel in a car that connects the engine to the transmission that drives the wheels, it is merely a mechanism for driving forward.
So keep in mind that there's nothing special about the flywheel itself.
It's as useless as a gym to a couch potato.
What makes the flywheel special is, just like a car, what you add in front and behind.
Add clear intent to the front of your flywheel, such as Bezos using his flywheel to grow Amazon big, fast, and now you're "directionalizing" the mechanism to a powerful goal.
Similarly, add to the back of your flywheel something that moves faster and faster like the wheels on a car and now you're driving velocity.
So you see here, ultimately it's not about the flywheel at all.
It's about you.
You flywheeling
Do you see what I'm trying to convey here?
That the flywheel is just a mechanism that you are using.
And all the velocity in your business and life comes from you.
Even the best Amazon flywheel is useless without hard working people putting energy into spinning it every day.
The same is true in everything that you do.
So if you're feeling like it seems many other people are feeling, like you are burned out, losing steam, and need to slow down, then do so.
When your tank is empty you refuel.
But if you're feeling fired up and looking to keep spinning the flywheel faster and faster, then keep building more and more velocity in you.