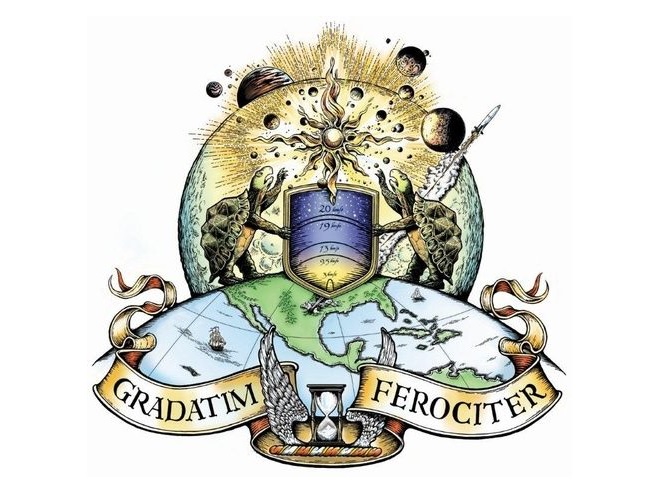 This is one of my favorite quotes of Jeff Bezos—
"I have realized about myself that I'm very motivated by people counting on me. I like to be counted on."
Researching Jeff many of his ideas have stuck with me, yet there's something of highest meaning here.
Leading and being counted on by others can be stressful and hard for many of us, yet delivering for others is our highest calling.
Certainly at Amazon Jeff's counted on by millions of customers, shareholders, employees and many others.
And at Blue Origin he has the opportunity to be counted on by all of our species.
Step ferociously
Blue Origin is still only getting started publicly but you're quickly seeing more of Jeff's vision.
He recently shot himself into space, shortly followed by Captain Kirk, aka William Shatner.
And just the other day Blue Origin announced a concept for a business park styled space station named Orbital Reef.
Jeff's making more public moves now, yet for 21 years he's been consistently moving forward, as the Blue Origin motto says—
Gradation Ferociter, or for those of us who don't read Latin, Step by Step, Ferociously.
Jeff is still WAY behind Elon Musk and others on orbital capabilities, but in the sub-orbital milestones he's been focused on Blue Origin has achieved quantum leaps.
You only have to look at the booster and lander for the New Shepard program to see just what Jeff has built, from scratch.
Yet you must go deeper into rocketry to see just how far he has REALLY come.
The impossible, possible
This is a funny clip of Elon Musk talking about the evolutions of space travel—
Without laying out all 40 seconds, he basically says—How would aliens land? Not in capsules with parachutes into the ocean, but propulsively, vertically, like a boss, as we see in the movies.
This is just one area where you CANNOT overstate the importance of the innovations Elon and Jeff have made in developing reusable rockets.
Blue Origin's propulsive landing of the booster rocket on his New Shepard vehicle on November 23, 2015 was the world's first propulsive landing after reaching "space." (meaning, crossing the Karman line, reaching 100.05 kilometers)
No other agency or company had ever achieved this before.
"Rockets have always been expendable. Not anymore," wrote Jeff, "Now safely tucked away at our launch site in West Texas is the rarest of beasts, a used rocket. This flight validates our vehicle architecture and design."
Six years ago Blue Origin achieved this milestone and today you see just how impressive their tech is for space tourism missions, especially relative to Virgin's 1960s era jet fuel funny car.
This is just one example of ONE thing that is extremely difficult to do that both Jeff and Elon have achieved.
And although Jeff is way behind Elon and others on orbital missions, his New Glenn orbital program has the potential to rocket him to the front of the industry.
And MOST IMPORTANTLY it gives him the heavy lift capability required to build the infrastructure for helping out.
"Helping out"
Is one of Jeff's phrases.
Doing what needs to be done.
Being a mercenary or a missionary.
Having a calling. A life of comfort or one of service.
These sorts of "Jeff-isms" are key to the way Jeff thinks and also to what's driving his space mission.
It's SO important to keep in mind that these innovations in space are happening because people like Jeff, Elon and others are making them happen.
For 50 years the U.S. space program has been limited at best—e.g. we've never even been back to the moon—yet today we're QUICKLY ushering in a new era as a space-faring species.
In this way, one might say that Jeff is "helping out" our species in taking our next major leap forward.
And in a way that he can uniquely do, and he uniquely cares, because of the way others have helped him out.
Built on Fedex
When Jeff talks about building in space, this is why—
As he says here in this video, "I'm interested in space, because I'm passionate about it… But that is not why I'm pursuing this work. I'm pursuing this work because I believe if we don't, we will eventually end up with a civilization of stasis, which I find very demoralizing."
So you see here Jeff has a powerful purpose behind his mission.
He's concerned about the future for our species and he's focused on helping out.
Blue Origin's mission is, "We're committed to building a road to space so our children can build the future."
Jeff talks about seeing trillions of humans in the solar system and looking back on his life having built the heavy lift infrastructure that helps make this possible, as he says here—
And so I want to build space infrastructure, so that the next generations of people can use that infrastructure the same way I used UPS and FedEx and so on, to build Amazon. And so that's what Blue Origin is all about.
It goes without saying that Jeff couldn't have built Amazon if a bunch of other people hadn't invented the Internet, or devices for harnessing electricity for that matter.
He couldn't have shipped anyone anything if others hadn't built Fedex or UPS or USPS.
And he's committed to helping out our species building the equivalent transport systems to space.
Using "Lottery winnings"
Jeff refers to Blue Origin as the most important work he's doing, as you see him saying here—
So for me, I'm very lucky because I feel like I have a mission driven purpose with Blue Origin. That is, I think, it's incredibly important for civilization long term. And I am going to use my financial lottery winnings from Amazon to fund that.
I love this notion of lottery winnings, and you can also see how it applies to all of us.
In some way or another we have some benefit.
Something has accrued to us because of something many other people have done.
And we can all find ways to translate this into our own version of helping out.
Helping Out YOU
The highest source of meaning for every human is selfless meaning.
Being in service to something greater than ourselves is well accepted to be our most rewarding pursuit.
Yet, it's crucial to see that even selfless meaning is selfish.
It's doing things for others that gives you a greater feeling.
Jeff ISN'T only helping out in space because he's doing it for humanity.
He's doing it because he's always been passionate about space, he sees the need, and he has the means.
That's what I most see from researching Elon Musk and Jeff Bezos.
They are on world-changing missions of highest meaning doing what most matters to them, which is ultimately helping out humanity.