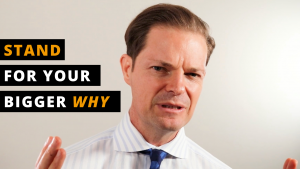 Ray McGuire is standing for something.
After a long career on Wall Street he's stepping down as Citigroup's vice chairman to join the race for NYC mayor.
It's a crowded field.
In many ways the politics has turned against wealthy businessmen like former mayor Bloomberg.
Yet he's still standing.
Perhaps it's easy for him
He's been making serious coin for decades.
Has strong relationships on Wall Street, in business, and the civic and political world too.
After a lifetime of it perhaps being a disadvantage, in these times his black skin might advantage him.
So perhaps all this is easy for him.
To leap from a prominent position on Wall Street.
Put time and money behind his campaign.
His reputation as a winner on the line.