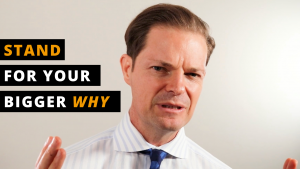 Ray McGuire is standing for something.
After a long career on Wall Street he's stepping down as Citigroup's vice chairman to join the race for NYC mayor.
It's a crowded field.
In many ways the politics has turned against wealthy businessmen like former mayor Bloomberg.
Yet he's still standing.
Perhaps it's easy for him
He's been making serious coin for decades.
Has strong relationships on Wall Street, in business, and the civic and political world too.
After a lifetime of it perhaps being a disadvantage, in these times his black skin might advantage him.
So perhaps all this is easy for him.
To leap from a prominent position on Wall Street.
Put time and money behind his campaign.
His reputation as a winner on the line.
Some will keep telling themselves that
They'll look at what Ray's doing and convince themselves it's easy for him.
If only they had his wealth.
Or relationships.
Heck, if they were lucky enough to be born with black skin.
Definitely they'd do something bold.
But they're not there yet.
Just gotta put more money in the bank.
If only they had this or that.
Then, certainly, yeah, absolutely, they'd stand for something.
Standing for nothing
That's what pains me most when I look around.
So many smart, highly-capable, world-changing people.
With wealth.
Top educations from the best colleges and business schools.
Incredible networks and experience.
Standing for nothing.
Having zero impact.
Drifting along with the crowd at a time when we so desperately need them to lead.
Many might honor Steve Jobs putting a dint in the universe.
But few even try to leave a dint of their own.
None of us dream small
No kid dreams to play small.
Especially the hard-charging types I'm talking to here; they dreamed even bigger graduating high school.
Coming out of college even more.
Landing a top job, fired up for creating that legendary life they once dreamed.
Having the impact you know you can.
But then, what happens to these dreams?
I often wonder, at what point do dreamers die?
In their 20s?
30s?
40s?
When do they give up on the dream life?
Settle for playing small?
Small is justifiable (to others)
You can make tons of money in a well-respected job.
Sit securely atop an empire you've built.
To many others that's massively winning.
But deep inside many feel there's more you can do.
Many have never taken any risk.
Never bet on themselves.
Never truly gone after their biggest why.
The wealth and success they've created insulates them from looking at the Broadway actor who never made it.
But deep inside they envy them for at least they tried.
Chased their dream.
They know they have it in them.
Still have time.
Now have the money.
They've achieved their smaller why.
Yet they still dream of living their bigger why.
Living your bigger why
To the outside world Ray McGuire must broadcast certainty.
The confidence of a man who has made it, and will make this leap too.
But I'm betting on the inside he's feeling like Neo standing atop of the building.
Full of self-doubt.
Unsure whether he can succeed.
Yet he's still a person who believes it is worth the try.
He has a bigger why.
Than himself.
His past success.
He's standing for something.
That matters.
He's no longer dreaming, but living his bigger why.
Here's the video again for upgrading your smaller and bigger why.