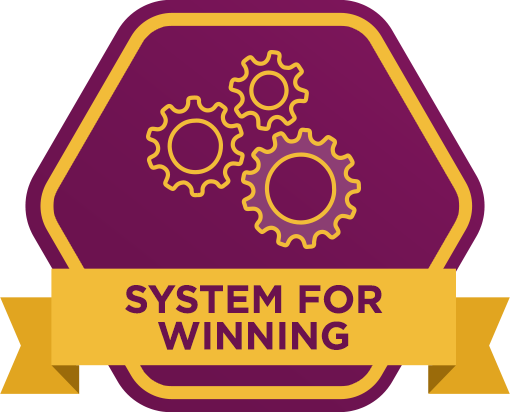 It can feel hard when you're stuck, can't it?
And stuck can mean a lot of things.
Sometimes you can feel stuck in a way that's temporary.
Say, at a time in your career or life you've just gotta work through.
But other times you've gotta make a leap.
Maybe that's a defensive leap because you don't see things playing out as you planned.
Or my favorite, offensively leaping to what you TRULY want.
Either way it can feel hard, when you want it to feel natural, like you're just taking steps.
Or leaps!
"I'm seeing the next level," said a client.
Now I will say, for decades all he's done is keep reaching the next level!!
And he's very good at it.
Over this time he's made a number of HUGE career leaps.
Changing jobs at his firm.
Moving geographies.
Strategically leaping to different firms to skip a couple of rungs on the ladder.
Doing this he's catapulted himself to near the top of a huge business.
And now he's looking at two different leaps from here.
They're both awesome.
But this too is where OPPORTUNITY can turn to stuck!!
Do you do this or that?
This I've discovered over way too many hours on these topics is…
One of the primary UNDERLYING questions of stuck!
What I refer to as the decision point.
In linguistics it's called an "exclusive or."
Meaning it demands you choose one or the other.
The problem is, it's like marriage, when you know you know…
Then it's easy to choose this or that.
But if you don't know, well, how do you figure out how to choose?
That's the stuck point…
Because here you think you need to choose, even though you can't!
The structure of choice
This structure of choice can be a hard one to navigate.
It's particularly hard when you only have bad choices!
But even choosing between different alternatives you love can still feel real hard, can't it?
That's how it was with my client—
Do I do this?
Do that?
What if X happens?
Y doesn't happen?
How do you know Z isn't going to be a factor?
And every other letter of the alphabet…
Arrgghhh!!
That's the so-called paradox of choice.
It's a paradox because typically you'd say you prefer more choices.
Problem is, having options…
And particularly having more and more options can make it harder to choose.
One reason is, it leaves you with more options you DIDN'T choose!
Meaning, not only are you focused on getting this decision right…
But you can also face decision-regret—regretting the choices you DIDN'T make.
This exacerbates decision-paralysis, and can keep you feeling stuck.
Even when you have awesome options to choose!
So how do you navigate these hard choices?
Perhaps the most valuable thing I discovered on my journey of this is—
If you don't know, you don't know…
So stop thinking about it!
And keep yourself moving forward in a direction that helps you figure it out along the way.
e.g. If you don't know whether to stay in your job or not, keep driving forward in your job while you keep exploring your options.
To be more tactical in a case like my client's, I'd say it slightly differently.
If you need to make a decision and you can't, rather than staying stuck at the decision point…
Asking the same question over and over that you can't answer!
Take it as a signal that you need more information.
Different angles. More perspectives. Learnings. Time. Other options.
Whatever it is, rather than seeing yourself stuck NEEDING to choose.
See yourself in a process of DISCOVERY learning what you need to choose.
3 step method
See, here's the thing.
If you think you need to do this or that.
And you're weighing your options, drawing up your pros and cons…
And you're still not convinced.
Well, then, you don't know.
So in my method rather than force yourself to choose when you don't feel ready to choose…
Seek information that will solve your readiness…
By building a process of discovery that enables you to get to your right answer at the right time.
There's lots of ways to think about this but these 3 steps are all you need:
Stop thinking about being stuck and focus on your grandest visions of where you want to be headed
Let go of TRYING to answer what you can't, and lay out your process of discovery that will lead you to your answer
Each day, merely focus on the steps you're taking now
This is the power of having a method…
To keep moving forward
My client said to me, "I still have no clue where I even want this to be headed."
"It's not for you to know right now," I said to him…
"Only to keep your visions in mind and enjoy staying focused on what's moving you forward right now."
So this way, rather than being all arrrgggh… do you do this or do that?
You build and trust your process.
And allow your answers to be discovered as you keep moving forward!
P.S. This is the underlying structure to the System for Doing What You Want that you see in my book you can get free here on the homepage.