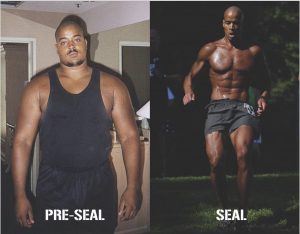 You see here a pre and post picture of retired Navy SEAL, David Goggins.
Pre SEAL, he's a big guy pushing 300 pounds.
Post, he's carved like David.
I won't go deep into his story which you want to read in his book.
Just a quick note to say…
He wasn't born this way
Goggins as he's known wasn't a born winner.
Wasn't a top athlete.
Didn't have a long history of accomplishment.
Was far from the guy you'd bet on to be an elite anything.
Just to qualify for SEAL training he had to drop a hundred pounds, which was an enormous feat for a guy who'd never been into exercise.
Working a, literally, dead-end job, with a dead-end future…
Goggins needed to first see this David inside of him.
And then do what it takes to forge himself this way.