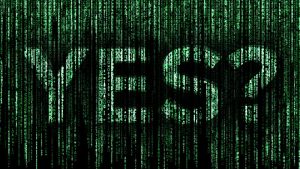 Elon Musk might be the brightest human alive?
Certainly there are people out there who are more book smart.
But who on Earth is capable of dreaming and scheming on his scale and creating it too?
Relative to AI he appears merely human of course, but relative to say the titans who built America I'd say he's right up there.
He's a unique thinker with a deep curiosity and formidable intellect.
Still, his math is misleading.
Simulation?
Among Musk's leading edge thinking is his assertion that we live in a simulation.
Apparently he is so convinced that he's banned it from further jacuzzi conversation.
Musk rationalizes that there is one in billions of chances that we DO NOT live in a simulation.
Mathematically this means that the probability this reality you are experiencing is "real," what Musk calls "base reality," looks something like—
1 / 2,000,000,000 = 0000000001%
Pretty conclusive math, isn't it?
And for a moment, just think about what this means.
Whereas since birth we're all taught to take this "real-ity" oh so seriously, Musk sees this more like playing a game.
Still, his math is misleading.