High performers learn from other high performers. If you want to manifest a change in your life or achieve a certain goal, the best thing you can do is study people who have already done it.
I've been fortunate enough to have worked with many hundreds of highly successful people.
Yet I've found that there are small things that distinguish the most successful few. One of those is role models.
That is, the most successful people often have at least one real world mentor, and a number of role models.
To many ambitious people, this is intuitive. Of course you want role models.
What most people don't know, however, is how to effectively use them.
Assuming you already have a person in mind, these three steps will help you not only better learn, but do what your role models do.
1. What About Your Role Model Makes Them Special?
Muhammad Ali might be your favorite human in history, but if your goal is to talk less, he's not a great role model.
You need to understand the qualities that make your role model special, and decide which of those qualities you want to emulate. Do this by thinking back to your role model's most iconic moments. the ones that spring to mind first when you think of this person.
And distill the defining quality your role model displayed.
How Might You Use Your Role Model?
For Muhammad Ali, you might think of:
His ability to bet on himself.

Nearly every pre-fight interview with Ali included him predicting in which round he'll knock his opponent out. He wasn't just confident, he set the stakes high for himself, forcing himself to rise to greatness.
His articulateness.

Few athletes can speak with the fluidity and gravitas Ali had. Yet if you watch interviews from early in his career, it's clear that this was a skill that Ali grew over time.
His level of preparation and execution.

Perhaps the most iconic Ali image is one of him standing over George Foreman, fist cocked and ready. Ali was considered an extreme longshot in that fight. But with super-human training and the careful execution of his now-famous "rope-a-dope" strategy, he won the fight handily.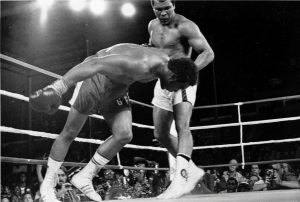 By asking yourself which moments you immediately think of when you reflect on your role model's life, you're really asking yourself which moments are most important to you. This will tell you what qualities you want to emulate.
Now, you want to understand why.
2. Why Do You Admire These Qualities?
This is the part so many of us get wrong. To create any meaningful change in our lives, we have to honestly reflect and understand ourselves on a deeper level.
If you take a broken Honda Civic and do everything you can to emulate the look and feel of a Maserati, unless you fix what's under the hood, you'll still be left with a broke-down car.
Ask yourself how your life would be different if you emulated a certain quality of your role model.
Compare that vision of you with how you have been, and deconstruct what it tells you about the limitations that have created your past reality.
Again, See How You Use Your Role Model
Maybe you want to be more charismatic, because right now you struggle to command a room. Why? Maybe it's because you're shy. Why are you shy? Often times, shyness stems from insecurity. Well, what is making you insecure?
And having asked yourself these questions, keep coming back to how you are different now you are emulating your role model.
You get the point. The goal here is to understand your fundamental motivations for emulating your role model and how deeply these changes can go.
3. How Do You Make This Change Every Day?
The number one mistake we make in setting goals is we make our goals TOO BIG.
If you're in college, maybe your big goal is to get a 4.0. If that's your only goal, you've already failed university because you'll have to wait to graduation to realize it.
Instead, ask, "What's the goal right in front of me? How am I doing it today? "
If your goal is to get a 4.0, then your goal today is to attend class and do your best.
You can repeat this goal every day, with the immediate satisfaction of succeeding or the instant motivation of failing. And know that if you succeed on enough days you will hit your long-term goal.
How Might You Use This Role Model?
This same mindset is critical to creating change in your life. Just say for one of your role models, you want to emulate Gary Vaynerchuk's hustle because you're undisciplined and don't get enough done?

Figure out what you can do each and every day to create discipline:
Create an alarm system that gets you out of bed earlier and faster.

Implement systems of accountability. Maybe this means doing a daily standup with someone who will hold you accountable.

Schedule your day and force yourself to stick to it. Timeboxing your tasks will keep you motivated, but also make it immediately clear when you're wasting time. (all topics we cover powerfully in my System For Ultimate Days)
Growth is always incremental, and it has to happen every day.
Consistently Use Your Role Models
Using your role models in this way, you're keeping it super simple, and you're only picking up the qualities that you want in each of your role models.
Rather than seeing it as a "big thing" where you walk and talk and be that person like a psycho.
Instead you're learning to take the character traits, the qualities you admire and want to emulate in your role models, and put them to work every day.
Another huge benefit of this approach is that you can have as many role models as you like. You can pick one for their work ethic, one for their strategy, and another for their social skills.
The goal isn't to become a chimera of all these different influences, but to use them as a model to understand yourself better, and ultimately, to affect real change in your life.
At some point, maybe someone will add you to their roster.
P.S. This article is more specific to how you practice stepping into your role models