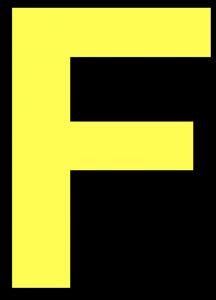 There are signs on my walls and desk.
Most of them are now covert.
Hieroglyphs.
A hidden language to anyone who doesn't know the signs.
And then there are far more overt signs.
Ones that you can never avoid reading.
8 page banner
Each page is just one letter.
Helvetica, 600 font, yellow bold with black highlighting like the "F" you see on this page.
They are taped together all Gucci-like around the base of my desk—
M
O
R
F
O
C
U
S
Yes, without "E," for efficiency.