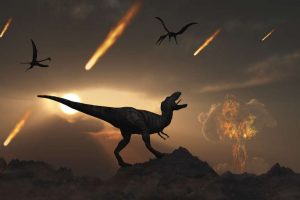 A buddy is a former spook.
If you met he'd seem very much like a regular guy.
Interesting background, fun to hang out with.
But if you get him talking on topics that some might call conspiracy, well, he'll go to town with you.
Not in a David Icke crazy kind of way
But in the way that intelligence officers are paid to think.
Potential scenarios.
What risks we might face.
How to thwart them.
Best respond in some worst-case scenarios.
Over the years he's thought through many such cases that most of us never want to imagine.
"And you wouldn't be surprised to hear how many of them have been cooked up by someone," he says.
"Movies like Contagion and Impossible Mission 2 give bad actors good ideas."
On the virus he's been conducting this thought experiment
He's been talking to a bunch of people and laying out this scenario—
Imagine you had just come out of a coma or otherwise had your head in the sand for the last couple of months.
And then someone tells you that the entire world has been shut down.
Countries have been closed.
Businesses have been boarded up. All sporting events have been cancelled, including the Olympics.
3 billion people locked in their homes (40% of the global population).
And here's the question—
What do you guess has happened in the world?
Really, how would you respond to this?
Even though you know what has happened, what might you guess?
He says he mostly hears, there must have been a major terrorist attack. 
So then he asks, what do you imagine?
A dirty nuke he gets.
Some say bombs have gone off in a number of major cities.
The world being held ransom by a terrorist group, alien invasion, world-ending asteroid are some other more out there ideas.
Sometimes people go to a biological weapon he says, but either way he then tells them…
It's a global pandemic
A pandemic so bad that we have shut down the world to fight it off.
Governments have thought the risk so great that we have nuked the global economy.
Closed borders.
In many countries shuttered every non-essential business.
Told people to work from home.
Quarantined entire populations from even going outside, and if they do remaining in groups no more than two and standing 6 feet apart.
Then, after laying this up, he asks….
So given this fact pattern, how many people do you guess have died?
Now, I will say, this is a pretty callous way to put it.
And my friend is a patriot, he'd fight for every single human life.
But what he's challenging people to ponder here is…
How many lives do you imagine we have lost to this global pandemic to have led to such an extreme response?
Where we have literally shut down the world to contain the threat.
What would you guess?
What number would you put on it?
100,000,000
That's the highest number he's heard.
100,000,000 people is 1.3% of the global population.
As he tells me, that's in contrast to the Black Death which is said to have killed some 100,000,000 people, which at the time was some 30-60% of Europe's population.
That's of course extreme.
More typically people have responded with numbers like 10,000,000 or 1,000,000 or 100,000 deaths.
Not one person has given him a number less than 50,000 people around the world.
And when he tells people to keep in mind that the CDC estimated up to 646,000 people die from the flu every year…
The numbers tend to average out more around 5,000,000.
And what's he conclude from this thought experiment?
Well, perhaps something you don't want me to share with you.
His guess is that the highest likelihood is there's one of three scenarios at play here.
First is that we have massively over-responded.
Again, it sounds callous, but as he says, "Relative to the global loss of life equivalent to 3% of the annual seasonal flu, it's extreme to have shut down the world."
But that too is the best scenario in his mind—"It's scary that our authorities have spread panic but we take it on the chin, save lives, and soon enough we are getting back to it," he says.
The second best scenario is…
That the death toll and the risk from the virus is much worse than we've been told, and that the actions we've taken are in line with the potential threat.
If so he says, that's OK too because we've responded accordingly, doing everything we can to contain the threat.
It's the third scenario that's most chilling
That there is a major threat going on we are unaware of.
In this scenario the virus threat is being used to get the human population to take drastic measures to protect us from a threat our governments are unwilling to disclose.
"What?" I asked him…
"You tell me what you think," he said, "Might lead 40% of the world population to be on lockdown in their homes?"
I ran through some of the ideas above and others to which he cryptically responded, "Your guess is as good as mine, although this scenario is of course planned for."
Just an experiment
To be clear, he's not saying these ideas are true.
And certainly I don't know what is going on beyond what you and me are told by the media and authorities.
You might reasonably lump these in the buckets of conspiracy and conjecture.
But given the drastic measures we've taken relative to the perception one might have of the threat…
An interesting thought experiment to consider nonetheless.