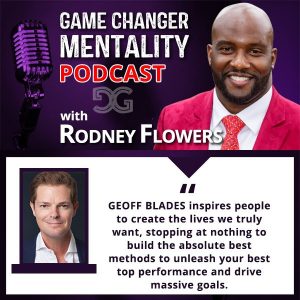 I don't feel like writing a dramatic opening.
About how this young fit man with big aspirations severed his spinal cord playing football.
Laying on the field unable to move his limbs, terrified.
Years, decades of tireless struggle just to use his legs again.
I don't want to talk about how it puts our lives in perspective.
Only to say that talking with Rodney Flowers on this podcast showed me something about our goals.
I won't suggest you listen to this podcast
I greatly respect your time.
And you may know I don't listen to podcasts like I don't listen to the radio.
Yet I will say that if you're looking to learn more on our limitless minds.
And what we can will our bodies to do.
Then you might get value from our podcast  or even just scanning this transcript.
Or you might even just read Rodney's book
That's what I did.
It's simple, yet inside Rodney distills some of the most important principles we know on the power of the human mind.
And in his case, it's not theory.
Not just so you can think and feel amazing every day.
Or take your best actions achieving your fanciful goals.
He explored the limits of the human mind so he could will his body to walk again.
Talking to Rodney made me run faster
Literally, I dropped 1.2 seconds off my sprint time.
And lap the track about 13% faster.
But moreso he got me to move faster in my goals.
Time waits for "no body."
You never know what tackle might be coming your way.
Only the time you have now.
And listening to Rodney is a reminder that no matter what happens in your life…
You can walk. You can run.
You can imagine the unimaginable and will it to be.