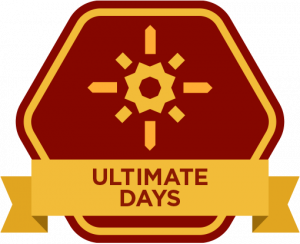 That's the second step in the Ultimate Days System.
It's real leading edge, isn't it?
Life-saving…
A Game Of Seconds
I mock myself, but I'm also being semi-semi-serious.
Wake up. Get up.
Is a real basic tool for getting your day started right.
Yet many of us also know how hard it can be, right?
Laying there hitting snooze.
Thinking about all the things you've got to do today.
Claws reaching for that device we cradle at night.
Those precious few seconds, those few bad moves, our day is already shot.
Horse Half Way Down The Track
The time to rein a racehorse is before it leaves the starting gates.
Once its escaped down the track, good luck reining it back.
Our brains are the same.
Once you get that negative thinking machine running into its 70,000 mostly negative redundant thoughts a day…
That's your day.
Those precious first seconds you can be watching that thoroughbred bolt away.
Or you can be taking control of your mind and actions for living your Ultimate Day.
Reinforcing Ultimate Habits
We are habit machines.
Thinking and actions repeated over and over are our lives.
How we direct our mind and actions every second is our day.
It's not good enough to know this.
Nothing good comes from reading smart-sounding books on habits.
To actually get yourself living your ultimate life, you want a system for conditioning your Ultimate Days.
Basic Stuff = Ultimate
Wake up. Get up.
Hydrate.
BSG, meaning, Bouncy, Smiley, Giggly. (yep, you can't make this stuff up, other than I did)
Are 3 of the most basic things you can do when you first open your eyes…
To bounce into your Ultimate Day.
Imagine your entire day this way.
Instead of being a "normal" person, constantly conditioning negative, redundant thoughts.
Every second you're reinforcing your best habits of thinking and behaving.
Your best mind and actions.
Every day optimizing your best Ultimate Days.
Here's Track 3A from the Ultimate Days Masterclass for getting your day started right:
P.S. You can listen to previously published tracks from this Masterclass here.