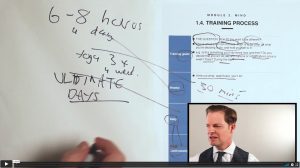 It's uncomfortable.
See my point?
There's no "un" in comfortable!
Which is why it's much easier to stay here.
Get good with "un"
"When bullets are flying you've gotta be comfortable," a SEAL said to me.
See, that's the thing, what might be terrifying to us, must be comfortable to them.
I asked my buddy how you get comfortable with that.
He said, "You spend a lot of time training in chaotic conditions so uncomfortable is your comfort zone."
An ER doctor told me much the same.
Where's your "uncomfort" zone?
That's one thing I've learned on the mind.
Many of these topics we've hit so far in Upgrade YOU are uncomfortable.
It's comfortable to have small goals.
Perhaps even more comfortable to have none.
You get to stay the same person you've been.
Thinking, feeling, acting as you always have.
It's rarely comfortable to change.
Or dream massive.
What if you don't make it?
How comfortable are you risking losing playing to win?
To stay comfortable, keep it the same.
But if you're looking to upgrade here, condition your uncomfort zone.
Conditioning your uncomfort zone
Lifting weights is uncomfortable.
To get strong, you're stressing your muscles beyond comfort.
Stretching is the same.
Literally, you're stretching your old comfort zone.
And you don't just do it once, do you?
Like an elastic band it reverts.
That's another problem with getting out of your comfort zone.
It can feel uncomfortable for a while.
So like stretching you want to get more comfortable a little at a time.
Stretching your potential
You'd never kid yourself that lifting weights or stretching once produces transformational results.
As Zig Ziglar said, "People often say that motivation doesn't last. Well, neither does bathing – that's why we recommend it daily."
And that's what we're doing together in this video building your process for conditioning your mind.
You're bathing your mind every day.
Conditioning it. Stretching it. Strengthening.
Making what used to be uncomfortable, your new comfortable.
And just like you'd do for training the physical body, you're doing it consistently.
A process for upgrading you
Starting our mind module for Upgrade YOU we covered what you're changing.
Then in Mind 2.2 we talked Performance Tools for making change.
Now, here in this third Routine for upgrading your mind, we're getting it to stick.
While some things in your mind you can change once and it never reverts back, other things you want to be conditioning daily.
This is core to my system for Building Your Limitless Mind you see in my book.
And the essential final step to upgrading your mind we're covering in this video for stretching your potential.