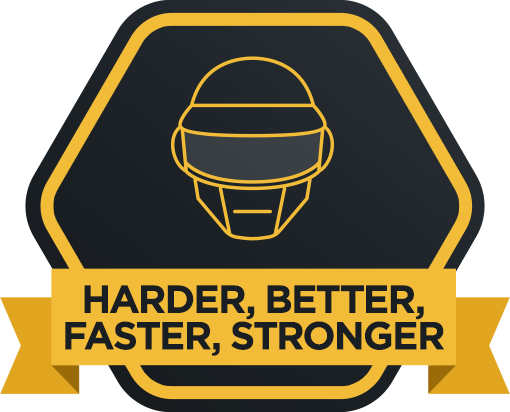 In any ordinary year, now is the calm before the sprint.
This week is typically a time for chilling out and setting up for the post Labor Day rush.
You have this feeling of the year closing out, which is exciting, especially this year, but also the desire to finish the year strong.
But this is no ordinary year, is it?
Groundhog year
This groundhog year has presented many challenges, and a number of business leaders I've spoken to hardly feel like they got a summer.
Locked at home with the family, with a short leash to Zoom, they didn't get their usual time to reset.
One told me he felt he was coming out of the starting gates half a track behind the other horses.
But he also readily admitted it's likely many of those other chargers feel much the same way!
I suggested to him that even if he doesn't feel well set up to finish the year…
You can easily, and quickly build momentum from here.
Building momentum through the summer
I'll write you more about this August Man Upgrade I did on this person formerly known as Geoff Blades. 🙂
But ultimately it was about stepping back, resetting, and building momentum through the summer for driving the rest of the year.
Looking at where I was in late July, it was clear to me I needed to make changes to give it more gas.
An open wheel racing instructor once taught me that you only have three levers in driving a car.
He said think of it like a rope attaching your steering wheel to the gas and brake.
"The problem," he said is, "You only have 100% grip, and so long as you're on the gas, you're taking some of that away from your ability to steer."
Hence, in driving a car real fast you must be precise about how you align the steering before you kick it in the rear.
Where do you get the most bang?
A client focus this year has been leading and managing.
And although this is a huge topic that takes time for him to effect in his firm, it was necessary to eliminate the constraint—
Him!
He's built a rocket ship, but too many parts were still contingent on him flying it, and so he's been methodically putting processes and people in place.
Through covid these small changes have been instrumental to him focusing on his highest value uses of time.
But most importantly, it's enabled him to open up the spigot, to get the machine roaring even faster.
Sometimes the smallest tweaks can have an enormous impact, especially this year.
3 focuses that might be valuable for you
Obviously, THE theme with clients this year has been driving forward through covid.
Each of us has been affected differently, right, yet across the board with our clients it's been a time of EXTREME focus.
For those whose businesses are challenged, it's been essential to keep the car on the road.
But for most of my clients we've been focused on controlling what you can, taking advantage of opportunity, and driving forward even harder.
For now some 5 months (and we're not counting it out soon) this has come back to focusing on three phases for driving forward:
What must you do Now? And I mean, really, Now, what matters most?
How do you navigate Next? I'll talk more about this in the context of my August Man Upgrade, but, ultimately, this comes back to driving blind.
What matters most to setting up long-term? No matter how this plays out, how do you make your best moves to keep driving towards what you truly want?
This might be helpful for you
The thing I've most seen in my career on Wall Street and in working with clients is how often you can get caught unprepared.
When things change, they change fast.
We often live by the illusion that you'll see a recession coming, but you can't even predict a rainstorm until it's falling!
This can leave you playing catch up, rather than driving forward.
Earlier in the summer I shared with you this short video program for navigating this highly uncertain time.
It's laid out like the above 3 bullet points—what must you do Now, Next, and Long-term—but it's specifically built for navigating a career on Wall Street.
So if you're on Wall Street and looking to best navigate what's ahead, this might be valuable for you.
Otherwise, perhaps even just this framework and page, might be helpful in giving you a map for coming out of the gates hotter.
Reach out if wanna discuss.