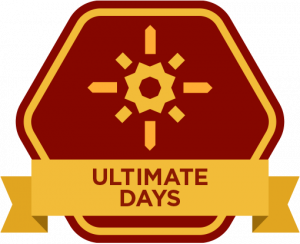 Did you see this movie with Tom Cruise?
It's an interesting take on the alien invasion story.
And a powerful metaphor for living our ultimate days.
Long Story Short
Alien invaders are wiping out the human race.
Tom Cruise, playing a poor soldier, blows himself up, taking an alien down with him.
But then he wakes up again.
It seems blowing himself up with the alien "infected" him with the ability to reset time.
Each time he dies he starts again the same day.
Get It Right This Time
Each time he comes back to life he gets to do it better.
To train more.
Develop more knowledge.
Become more skilled.
To end the alien threat first before it again ends him.
Truth In Fiction
Groundhog Day.
Die Another Day, You Only Live Twice.
Esoteric notions of being reborn.
Video games "Continue Play."
Prayers for dying before we wake.​
There's a social consciousness around being born again.
Ultimate Days Are Much The Same
Who knows how many more days we each get.
If you're counting on tomorrow, how much are you living for today?
Make today ultimate.
If you don't die before you wake.
Make tomorrow even more ultimate.
Here's Track 3A from the Ultimate Days Masterclass for waking up and best starting your ultimate day:
P.S. You can listen to previously published tracks from this Masterclass here.