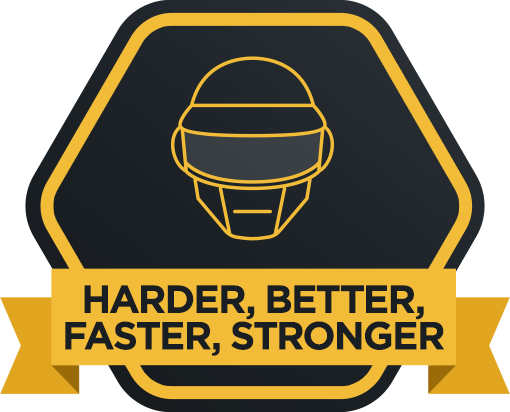 Hmm, is it wrong for me to use that headline after the CEO of McDonald's just got fired for McLovin?
I guess it's all about context, right?
A wise mentor at Goldman once taught me you've gotta be careful how much lovin' you do in the workplace.
At least with other employees.
But is there any limit to how much you should be lovin' your job?
Lovin' It?
Too few of us adults seem to be lovin' it.
A kid laughs some 400 times a day, when us oh so serious adults are somewhere around 12.
Even many adults who are doing what they love.
Having reached the highest levels of business, achieved ridiculous success…
How many are lovin' it?
After a first meeting with a new client she found herself smiling, beaming, walking the streets of Manhattan.
People kept looking at her, as if to say, what are you so happy about?
Nothing. Nothing had changed.
She'd simply unlocked an awesome feeling and was lovin' it.
Greatest Lesson Of My Life
Came from my hardest time.
It tends to be the way, doesn't it?
It should have been the most amazing time in my life.
After a decade of reading silly self-help books thinking I had all this figured out…
I'd left Wall Street living my mantra—doing what I want.
Yet, as I've written about plenty, it most certainly didn't feel that way.
Doing what I'd for so long imagined, I felt far worse than I'd ever imagined.
The work that I so loved had me feeling more than stuck.
Writhing in pain unable to do it, spiraling down.
I hit eject.
Lovin' It More
A couple clients crushing it in their business dressed up for Halloween.
Their entire team dressed up went for lunch looking like total larrikins.
One of their investors saw them in a way some might be embarrassed, and they all had a good laugh.
He emailed a photo to another highly prominent investor who emailed back—
Lovin' it.
What they've been through in the last few years standing up their business has been off the map hard.
Mind-busting, back-breaking, straight up, hard.
From the outside they've made it look pretty easy.
Yet let's just say, at different points in time it was no laughing matter.
Today there's still a lot of building to do.
But with perspective of where they've come from it's easier for them to be lovin' it.
When This Job Was Too Hard
I packed my house and turbo'd out of dodge.
Pointing my race car to the mountains, turbos screaming under the cover of the radar detector I couldn't get there fast enough.
Sitting in LA, struggling in my work, and even more in my mind, I needed out.
Back then I didn't know how or even if I could get through it.
But some part of me knew that in the isolation of the mountains I would find something new.
To others moving to Vail to ski the season seemed like I was doing what I wanted…
And it was.
But skiing was secondary, or so I thought.
I was using my mountain chrysalis to learn to write, fix my head, transform.
Little did I know, when I left my work would get even harder but what I learned skiing had me lovin' it more.
When Success Felt Hard
For most of my life success felt hard.
Like arrrrrgghhh, gotta get this done.
Arrrrrgghhh, gotta get what I want.
And now I was doing what I want, it still felt much the same.
That insidious Getting There Program I keep writing about had a terrible grip on my brain.
Although I'd done so much to arrive here, now doing what I want, I was still all arrrrrgghhh to reach that next level, to feel I was there.
It didn't make sense to me at the time.
And it still took me years to decode the brain and understand exactly what is going on.
Yet the lesson I learned some 60 days into my ski season would change so much for me.
Make Hard Fun
It all seems so obvious now but back then skiing it struck me like a tree.
My work had been busting my head.
It felt hard. I was making too little progress.
I didn't even know what to do, let alone how to do it.
And then skiing some stupid-dangerous run off the map it hit me like that tree.
I realized I only skied what was hard.
That was the point.
I never skied the bunny runs, only the stuff that pushed me.
That was fun.
And my brain began connecting the dots that I could see my work the same way.
Sure, it was too hard for me.
It was busting me in all sorts of ways I didn't know I could get busted.
But I could see that was exactly why I was doing it.
I was bored in easy jobs. I was doing something that was way too hard for me.
And instead of seeing it all arrrrrgghhh, like skiing, I could be lovin' it having more fun.
How To Make Hard Fun
I can't know what this means to you.
What specific hard things you'd like to be lovin' more.
But I do know that it comes back to the way you see it.
For instance, is working out hard? Is it something that requires all that grit, aarrrrrgh…
Or is it playing like a kid on a jungle gym?
What about a meeting?
Or getting a deal done?
Or a back to back schedule?
What are the stories you tell yourself?
Of how hard it is? Of how much more you'd be lovin' it easier?
Or how just by the way you're choosing to see it, you can be lovin' it hard like the CEO of McDonald's…
Here's 28mins from the Harder Better Faster Stronger Masterclass on doing hard things, making em' more fun.