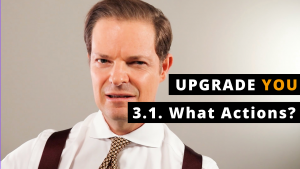 That's how I think of most success.
Actually, that's what I've seen many people experience chasing success.
Arrrrggghhh.
Grind, grind, grind.
Crank. Crank. Crank.
Getting it done. Done. Done. Done.
Boom. Crash.
btw, that boom, crash even happens when people achieve because…
If you don't know where you're headed
Well, will you feel good when you arrive?
Your ladder of success can be leaning against the wrong wall.
So you climb, climb, climb, only to reach a level where you're wondering, is this what it was meant to be?
The worse problem is you never reach this point.
You grind, grind, grind until you can't grind anymore.
And you still fail to reach your destination.
Or worse.
The mistake I've made plenty
You keep hitting the wall.
Backing up.
And driving headfirst into it again!
Refusing to stop and assess where you're at.
Perhaps turn around.
Change direction.
You simply keep the foot on the gas banging up against the same wall.
Where persistence fails
Inside this Upgrade YOU video for getting clear on your most valuable actions for driving what you want…
I bang on about where persistence fails.
Now, don't get me wrong, persistence is certainly one of the most crucial ingredients to driving the results you want.
Yet, where it fails is what I'm illustrating above—
When your actions are failing to drive the results you want, and you just keep taking them.
To be sure, this can be the right move.
But can also keep you grinding away, forever failing to reach your goal.
Because what's required is…
Better and better and better actions
Ultimately, this is my point here and in this video for Upgrade YOU 3.1.
All day every day you can be cranking it out.
Grinding away.
Getting it done.
But unless you're taking the right actions, you'll never achieve your goal.
Hence, we're back to this video on getting clear on what actions truly matter to driving the results you want!