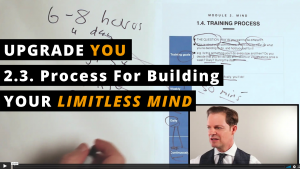 I know I'm fc'g this up.
A top marketer of personal development told me directly.
"You've gotta make it seem easy," he said.
"But even that's not enough. Effortless. That's more like it."
The point being…
Few people like to workout
Many people avoid it.
Others, with a more important goal, "force" themselves to show up and get it done.
"So if you run around comparing training your mind to working out," he said, "You turn many people off."
"Good," I said.
Those people are wrong for me and I'm wrong for them.
They should stick with podcasts and self-help hacks.
I work for and seek out serious people who do the work.
Because people who are serious about driving transformational results do what it takes.
Doesn't mean they love it
Just means they do it.
That's a key criteria for massive success right there.
Your willingness to do things that are hard, or you don't want to do, because you know it matters.
Yet, many of them love it too.
Challenging yourself with your hardest goals.
The feeling of being on your edge.
Pushing and pulling yourself to stretch and grow.
It's the lesson I learned living in Vail when this work was so damn hard for me.
The hardest ski runs are the most fun.
And you can make all of your goals feel the same.
Yet when you do enjoy it…
Whoa.
That right there is effortless.
When you're just so absorbed doing what you want to be doing.
Even if it's hard as fc.
Perhaps particularly when it's hard as fc.
Demanding the most from you.
Allowing you to unleash more of your potential.
My people seek out these types of experiences even if they lack a clear reason why.
Pull-ups just because
That's what one of my buddies decided to do.
He set himself the goal of doing I wanna say 150 pull-ups a day for an entire year.
I'm not gonna guess how many you can do, but that's a lot of pull-ups, right?
That's a lot of pull-ups, right?
I had a phase when I was doing pull-ups.
They sucked.
But over time you learn to embrace the suck, as the SEALs say.
To the point where, like my buddy, you're just doing it coz you want to.
No why in particular.
Just coz you want to challenge yourself doing your pull-ups.
Gawd… Am I making it worse?
See, on this routine for setting up your mind training program we've now gone from talking about it like working out that many people might not enjoy, to doing pull-ups, that even fewer people enjoy.
And that's all good.
Coz I'll tell you some great news.
Training your mind can feel effortless.
And so much fun.
I mean, seriously, and I'm being serious here.
Right now, in your head you can imagine having the greatest experience of your life, and really enjoy it now.
Go ahead, do it
I mean, really, just for a moment, imagine your most amazing experience and really enjoy it.
That's all we're talking about here on training your mind.
And sure, setting up your training program as we do here for harnessing the Performance Tools might not be the most fun you can have.
But just imagine what comes with building your limitless mind!
I mean, really, again, just for a moment, imagine enjoying what comes from being your best…
Here's the video on building your training process one final time.