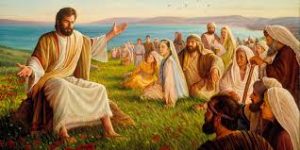 Lots of people have deeply impacted our world.
We have cities, buildings, other things named after them, and special days we celebrate them.
Many have had such a lasting impact.
But only one man reset time! (at least for many of us)
Who was this Jesus?
Was he even a man?
Meaning, what does it mean to have died and risen?
Was he the son of God? (and what is such a thing anyways?)
Could he do miracles, or was he just an ordinary man with an embellished history?
Did he even exist at all, beyond the stories and teaching tales told of him?
Who knows?
We all have our own religious or not-religious beliefs.
Different religions have their different teachings, stories, preachers, followers.
Even scholars of the same schools have different interpretations of the teachings.
And all this apparently happened long, long ago in the time BC (Before Cameras!), so none of us can actually know.
Yet one thing we do all know is…
Because of Jesus this is the year 2020
It's not the year 4.543 billion, which is the guesstimated age of the planet.
It's not the year 200,000, which is the most generous guess as to how long us humans have been modern.
It's the year 2020 because Jesus made it so.
For whatever reasons that may only be fictional…
The being we know as Jesus left such a lasting impact that we reset time for him.
Whether we believe in him or not
His impact has affected every second of our lives, for this year, week, day, hour, minute, second is measured in reference to him.
Even if you don't believe he existed, you know this weekend is Easter, the day it is said he rose from the dead in 30 AD.
One thing I didn't and you might not know is that the BC (before Christ) and AD (anno domini, meaning the year of our Lord) dating system isn't found in the scriptures.
It wasn't adopted until several centuries after the death of Jesus.
Meaning, ultimately, like naming a building after someone who has passed, some people merely decided we would reset time for him.
What does this mean to you?
Some thoughts I have on it are—
The lasting impact one may have in your life, and forever through time
How stories create realities, and who decides the accepted narrative
The many of us who want to believe and accept what we're told without question, nor true understanding of what it all means
How invisible accepted conventions become (i.e. that all day we quote the year in reference to him without thinking much about why it is so)
Ways this one man's story has brought so many of us together
And how easily we can share in the spirt of a simple message of joy and caring for one another
So on…
What are some things it means to you?
Happy Easter, and much love to you and yours