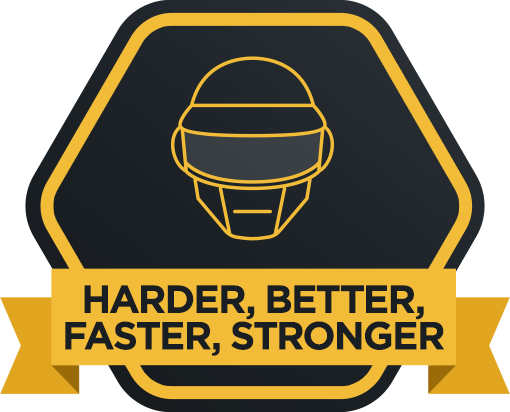 "If I can't build this business faster I fail," a startup CEO wrote me.
From my time in Silicon Valley I know it's often true.
Get big fast is a mantra because in a world of innovation there's no rewards for slow.
"Unless we get harder, better, faster, stronger, we lose," he echoed.
Clarity…
Is a beautiful thing, right?
See, one of the reasons I'm so deep into these topics is because when I began asking, How do you get what you want?
I had no clue what I was looking for.
People say, you've gotta have goals.
OK. Great, but what if you don't know what you want?
And once you've got goals, how do you make them happen?
You've just gotta keep working at it.
Real helpful, thanks…
I wanted a method.
A simple and powerful approach I could put to work every day in getting what you want.
"But, How Do I Get Harder, Better, Faster, Stronger?"
He blurted out as we jumped on a call.
"Well, what specifically are you focused on improving?" I responded.
"No, you don't understand," he said. "I must get harder, better, faster, stronger, FAST…"
"Because if I don't my startup will fail."
Already I was thinking he was too much drama for me but at least he was clear.
He's got his initial capital.
Has launched a product.
Hired a team.
And now he must drive revenues, fast.
"So how do I do it?" He wanted to know…
Not With Me…
Speaking it became clear I was wrong for him and I suggested some other regular coaches who might be right.
His mind was full of cats.
All over the place.
He knows he must keep driving forward in better ways, but he's not looking for a method.
And that's too much drama for me.
See, I've tried to take all the drama out of this.
Not yelling about hustle, hustle, hustle. 
Get fired up. 
Rally the troops.
Make it happen. 
Toughen up. 
And every other rah rah platitude you come across on winning.
Just Rigorous Method
With a goal to crush, none of us want to run around like headless chooks trying to figure out how to win.
We simply want to know…
What must I do every day to keep advancing my goals?
When it's hard, how do you get harder?
When you must get better, how, specifically, do you?
As your goals expose your weaknesses, what gets you stronger?
And what about faster?
How do you lay out rigorous process to every day keep advancing faster?
That's what we start unpacking here in track 1 of this Masterclass for Harder, Better, Faster, Stronger: