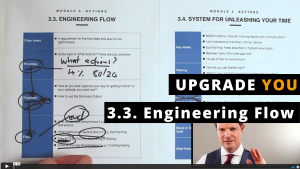 A private equity founder shared this story from a portfolio company CEO.
Now, this client is an entrepreneur.
A founder. Builder.
He's been surrounded by top business builders all his life.
And this idea is from one of them.
A guy with a special and meaningful story.
Who sold the business he founded in his kitchen for nearly a billion dollars.
"From the outside…"
He says, "Building a business is like riding a bull."
Someone watching might be dazzled.
The way they ride that bucking animal can look magical.
Even effortless, as they flow with the movement.
"Yet to the bull rider," he says, "You don't have a choice."
You're strapped onto this thing!
Whether you're gonna get thrown or ride to victory, you're hanging on for dear life.
Failing means major disappointment.
And also potentially being impaled!
So you keep riding.
Get riding, keep riding
When you get thrown, you get back on.
Hurt, unable to keep riding, you prepare to get back on.
Looking at your last rides, you're asking, how can you do it even better?
What more can you learn?
Can you do?
Because you know that if you can just stay on long enough you'll win the ride.
See, that's the key isn't it?
Get riding, stay riding.
Get flowing, stay flowing
Watching someone getting it done can be incredibly inspiring, can't it?
Especially when this person is you!
Meaning, how do you feel looking back on a day you crushed?
When you bounced into your day with the vigor of riding that bull.
And rode it all the way home.
How magical can this feel?
Who would you be driving ALL your days this way?
What RESULTS might you achieve this year?
How might you best lock this in for living in your flow?
Engineering your day for flow
That's what we're about here in this final routine for Upgrade YOU.
Not just knowing that you can engineer your day for best crushing your goals.
But, actually, engineering it.
Seeing your day like the thrill of jumping on the bull and riding it home.
Here's the video for how you can do this for yourself.
P.S. As we're wrapping Upgrade YOU I'd like to build just a few more of your upgrades with you, so hit me up if you want to quickly build your method for crushing your goals together.