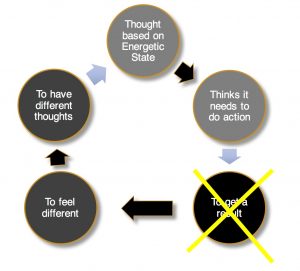 I keep hearing how much more unhappy Americans are now.
It's no surprise.
Locked in your home.
Many people's income cut off.
Businesses dying.
Kids futures looking like, what?
All the stresses and strains that are now upon us.
Yet…
You know from all the stuff we talk about here that…
NONE OF THAT causes happiness or unhappiness.
The ONLY cause of how you think and feel is you.
Admittedly, this is really really not easy to learn nor do.
Because our society has tricked you to believe that how you think and feel is caused by what you have or do.
This is the biggest lie perpetuated to keep humans in misery.
And this is the greatest time to train
Even with all these challenges some of my clients are happier than they've ever been.
Things in their businesses are fine (not great).
But they're not traveling so much, and they have way more time to focus on these topics of what some call self-care.
Honestly, I find that phrase to be the lamest of the lame.
But it does point to what we're talking about here.
How you think and feel comes back to you.
The will and skill of think and feel
I will say this is the hardest topic I've ever focused on mastering.
Even 20 years in, and really, 10 years full-time on absolutely mastering the mind, it's still not easy for me.
Yet, it takes a long time just to see through the lies of our society, let alone to build tools to actually master your mind.
I'm way way better at it now than I've ever been.
I'm right here on living my 100% days.
Have more energy.
More pop.
More focus.
Killing it in taking my best actions.
Having more laughs, even while the world is going to the wolves.
This is partly because I've used this tough time to double down on the mind.
To use the anvil of this mess to really harden the mind.  
It's massively paid off for me.
And I want the same for you.
Just a quick note to say
Look, even if this mess is messing with your mind…
You are in control.
You get to choose how you think and feel.
And I hope you feel like the stuff I've shared with you can make this much easier for you than it was for me spending decades figuring it out.
Really, the best thing I think I can share with you in this short note is this long article from a few weeks back.
No matter how you're thinking and feeling the answers are really simplified in here.