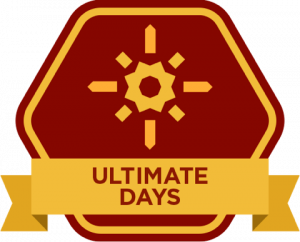 My Fakebook birthday is always a nice surprise.
It's like some of us men on our anniversary.
We completely forget until we wake up to the well in that case less pleasant surprise.
Just Like Any Other Day
I'm getting on with my day.
Making it ultimate.
And then it starts…
With a text message, "Happy birthday!"
Then I remember, ha, of course it's my Fakebook birthday.
I punch the air.
Celebrate
After all these years you'd think I might remember my Fakebook birthday.
Maybe even do something about it, like change it.
But I let it go on.
As I wrote about on my last Fakebook birthday I gave up telling people, "No it's just my Fakebook birthday."
Birthday wishes bring so much joy to people.
And of course I love people celebrating every day.
Live Ultimate Days
That's the point of my Ultimate Days System.
I built it over some 15 years because I could see…
Instead of only celebrating on your birthday or anniversary or when something great happens.
Make every day ultimate.
Think your most ultimate.
Feel your most ultimate.
Take your most ultimate actions.
Why wait for that special day to be your most ultimate?
Ultimate Days Not For Everyone Every Day
Some people say to me, "Well, if every day is ultimate, does that mean none are ultimate?"
If you celebrate like it's your birthday every day, then when do you really celebrate?
What type of sad logic is that?
It's like saying if your anniversary is special, does that mean every other day with the person you most love is just humdrum?
Hmm…
More or less for many people.
It's Not Our Fault
Our sewer society conditions us to think we can only celebrate certain days.
Fridays are better than Mondays.
Birthdays are better than not birthdays.
Labels and Fakebook tell us how to think and feel.
How bizarre.
We can buy into this fake reality.
Or celebrate every day like it's our Fakebook birthday.
Here's Track 1 again from the Ultimate Days Masterclass:
P.S. You can listen to previously published tracks from this Masterclass here.