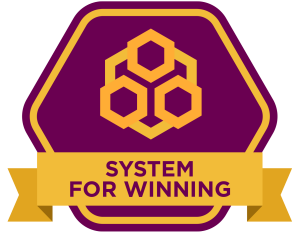 Someone asked me if I'm laughing at the miserable Chamath the Destroyer how do I feel about parents bribing their kids into school.
Well, of course I find it just as funny, and unsurprising.
Rich and famous people can buy near anything in our world, and anyone who thinks the school system is above bribery hasn't noticed what "gifting" a building will do…
And I can understand where they're coming from.
Everyone Wants Their Kids To Win
One of the hardest things for parents is feeling helpless they can't do more for their kids.
How do you help your kids win in this rapidly changing modern world?
School has become more competitive than the Olympics so it's not surprising parents would follow the example of Tonya Harding and bust a rule or two.
Of course we know helping your kids achieve something they fail to earn doesn't help them in the long-run, but it heavily reduces the burden of actually being a parent…
And what more can you do?
Um, Teach Them To Win
Nobody teaches us to win in life.
Even in school which has a very obvious method for winning—a process for studying—and even more obvious winning skills—e.g. focus, speed reading, memory techniques—nobody teaches us how to win.
Instead we're taught that life is a battlefield on which brute force wins—put your head down, work hard, sacrifice, give it all you've got…
Ugh, near everyone on this planet loses that way.
Look At The Working World
It isn't working for most of us…
Who ever teaches you to win in your career?
You get the best job you can. You're shown your desk, given a business card, then what?
Maybe you have a mentor, but like a busy parent, what do they know, let alone teach you about winning?
Who ever sits them or you down and says—
OK, this is what this job is REALLY about, and this is, specifically, how you win at it
Never. Too Many Losers
Just like in school we're taught that putting our heads down, working hard, grinding it out, sacrificing, doing what we're told is doing everything we can, and even in the most elite firms, few people have a method to winning.
Even if they do, basically none I've met have a way of teaching others to do it too.
This is the problem these top executives face with their kids.
They're of course massive winners in the world (well, by one definition…) but obviously fail to have a way to teach their kids to win.
Instead, like a good draught horse, they send their kids off to the best schools to pull the plough harder than the other gifted colts…
But, of course never taught, specifically, how to actually win, most kids, like most adults, are just whipped until they fail or reach the next level to fail at…
We Deserve More Winning
When I started this work some 20 years ago I was searching for one thing.
I needed to answer my question, What Do I Want?
But, I found something far far far more valuable.
Not just a way for each of us to figure out what we want—and keep moving towards it even if we don't know what we want—but a highly systematic approach to getting it.
Not the head down, work hard, self-help rah-rah, second-rate ideas bullshit…
Whatever you want.
Top grades. Top winning in your career. Top winning in your business. In sports.
Can be achieved the same way.
Of course everyone must work hard, and "working smart" is a cereal box commercial, when all we need is a system that brings together the Two Secrets For Winning:
1.  Definite purpose 
2.  A system of continuous improvement—winning process and skills
Done. Simple. Anything and everything you want.
And highly teachable, even to a dunce kid a parent is too busy to help win.